The intuitive wedding planning tools you need for an empowered & effortless process.
Timeline-building, budget-tracking, vendor-managing, to-do-reminding—meet the smart system you need to stay organized, sane, and on top of your wedding-planning game.
Wedding website builder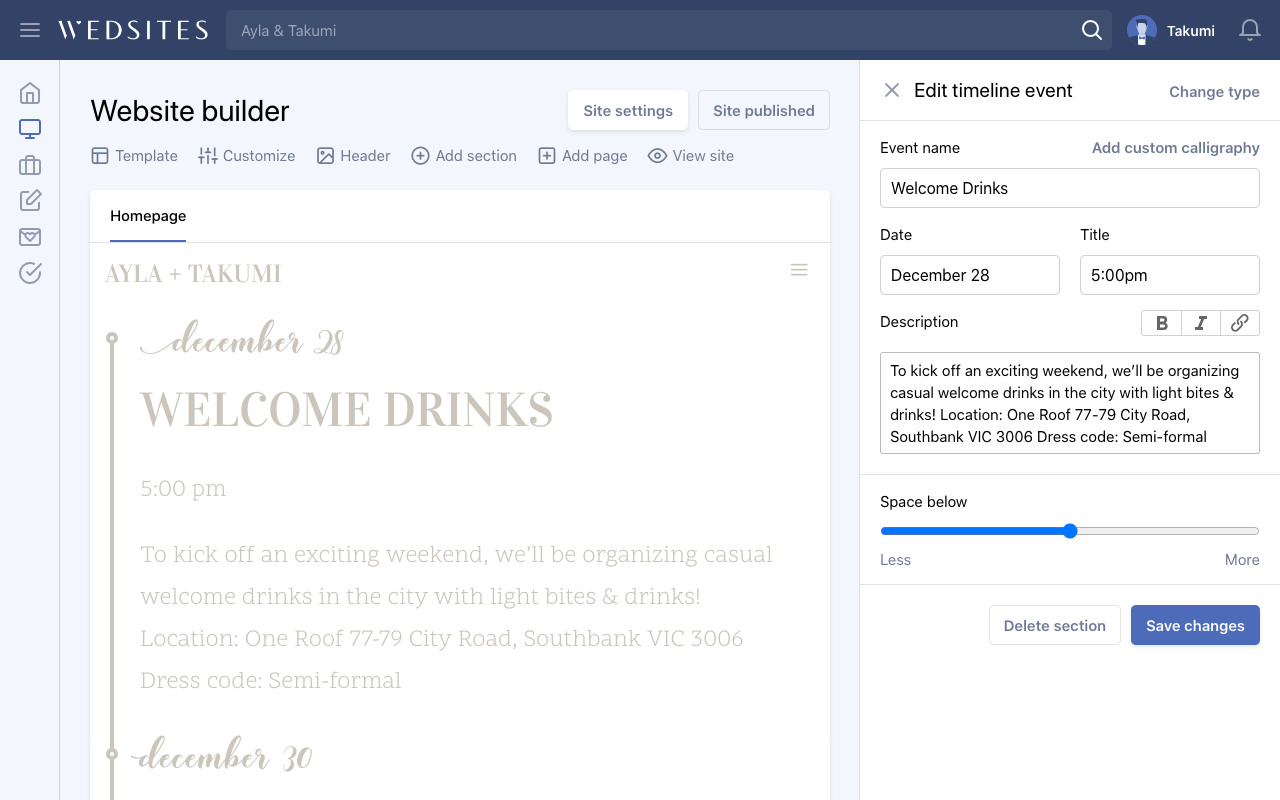 Site builder
Drag-and-drop website builder to help you customize every section of your website. Upload your own images, videos, illustrations and calligraphy. Choose the wedding building block sections to add information.
Custom domain name forwarding
Want to use a domain name you've already purchased? Follow our step-by-step guide to automatically forward guests from your custom domain to your wedding website!
Layout and pagination
Choose to create a single scroll website with clickable headers to jump to each section or a website with multiple pages to break up your information.
Gift registry
Add links to your gift registry, cash fund, or favorite charity for donations.
Online guestbook
An interactive form for guests to share photos and messages on your site.
Accommodation & travel information
Share hotel room blocks, nearby accommodation options, links to your favorite cafes, restaurants, cars, and things to do while your guests are in town.
Add wedding party bios
Introduce your bridal party and showcase the special people who will be supporting you along this journey.
Timeline of events
Create a visual timeline to show guests what events you have planned for your wedding.
Countdown
Display the number of days until your wedding date!
Live stream your wedding
Create virtual events and share them on your wedding website for guests to find with ease. WedSites supports all of your favorite live streaming platforms.
Learn more
Upload custom calligraphy
Upload your own lettering to replace the default style of your names and section headers.
Multiple languages
Translate your existing website to create a new version of your website in another language. Perfect for multicultural, bilingual or multilingual couples!
Learn more
Publishing control
Update, publish, and unpublish your website at any time.
Privacy options
Add your own custom code to password protection your wedding website.
Visitor analytics
Track guest visits to your website. You'll see a spike in traffic when you send out those invitations!
Designs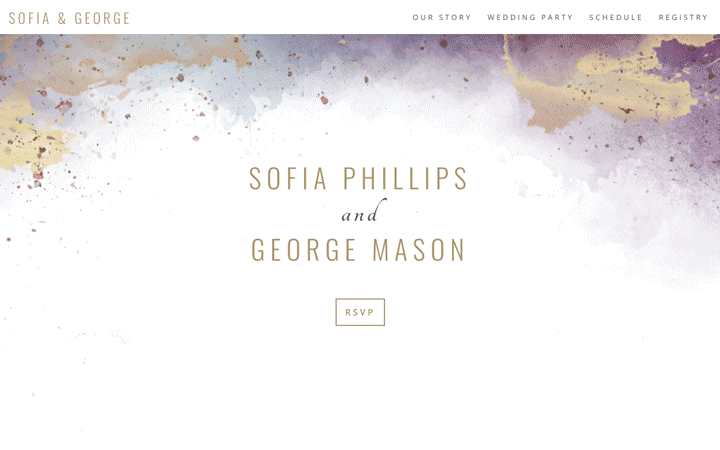 Flexible templates
Choose your favorite design or use it as a starting point to create a one-of-a-kind wedding website. You can add, remove, and change the size of every section of your website.
Customizable color scheme
Change the text, accent, and background color to create your own color scheme.
Mobile friendly
All design templates are mobile optimized so guests can view information and RSVP from any device.
Custom CSS
Add your own custom CSS to make further modification to your website.
Switch designs anytime
Quickly switch and experiment with different designs without losing any of your work.
See flexible templates
Standard + Pro
Guest list manager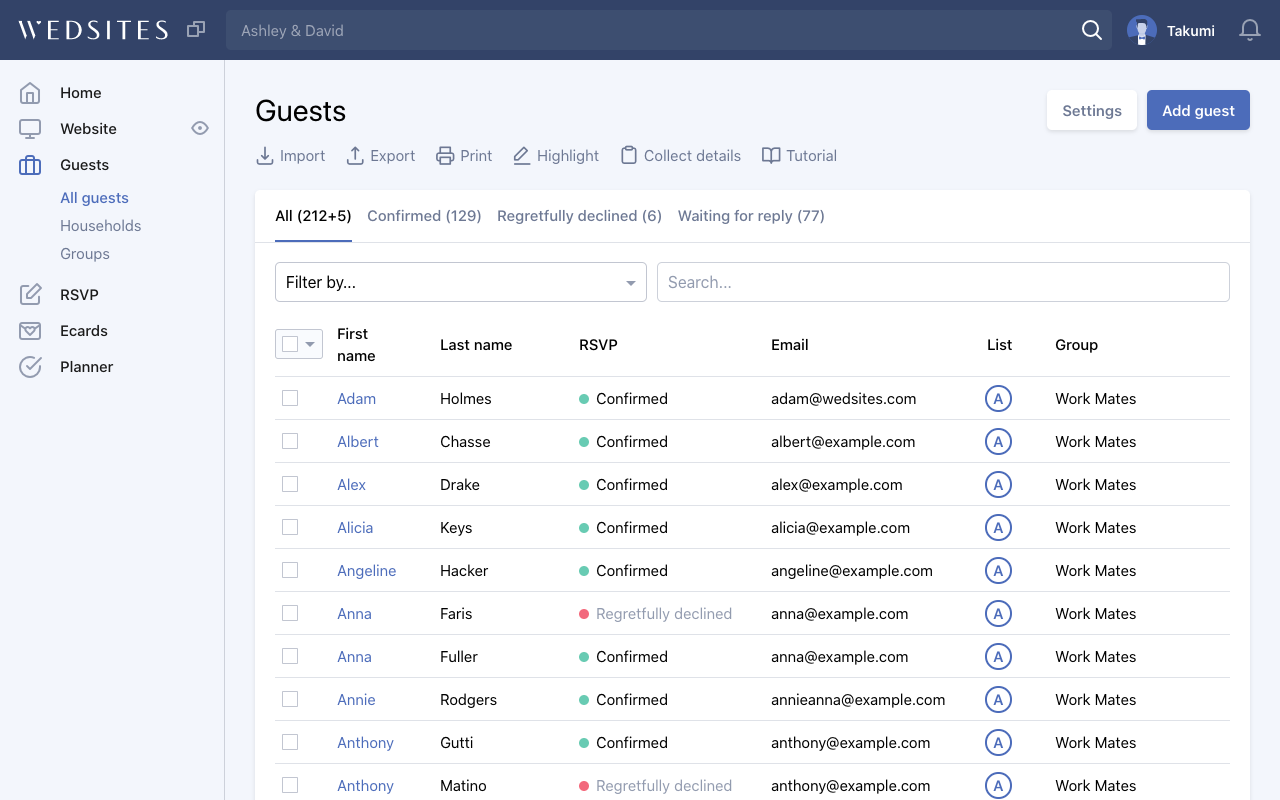 Guest list database
Add, collect, and store everything you need to know about your guests in one place.
Collect guest details
Send your friends and family members a link to your custom form to quickly gather their email, phone number, and household addresses. All guest details will be securely stored inside your guest list database in preparation for sending your Save the Date and Invitations.
Sorting, filtering & searching
Choose and sort by columns. Filter and search by guest's details.
Households
Keep families, couples, and singles with +1's together in the same household for easy RSVPing for their entire party.
Groups
Organize your different friends and family members into groups for easy sorting and seating chart creation.
A/B List
Create priority lists to manage a large number of guests.
Give +1's
Pick and choose the guests you want to give a plus one. Guests will be able to RSVP with the names and details of their +1.
Add notes
Keep track of stationery items sent (save the date, invitations, thank you cards)
RSVP statuses
Keep track of guests' RSVP responses and answers submitted on your RSVP form.
Stationery tracking
Keeps track of when and how you send your Save the Date, Invitation, and Thank you cards.
Printable
Print out your guest list and their dietary requirements to share with your caterer.
Standard + Pro
Online RSVP's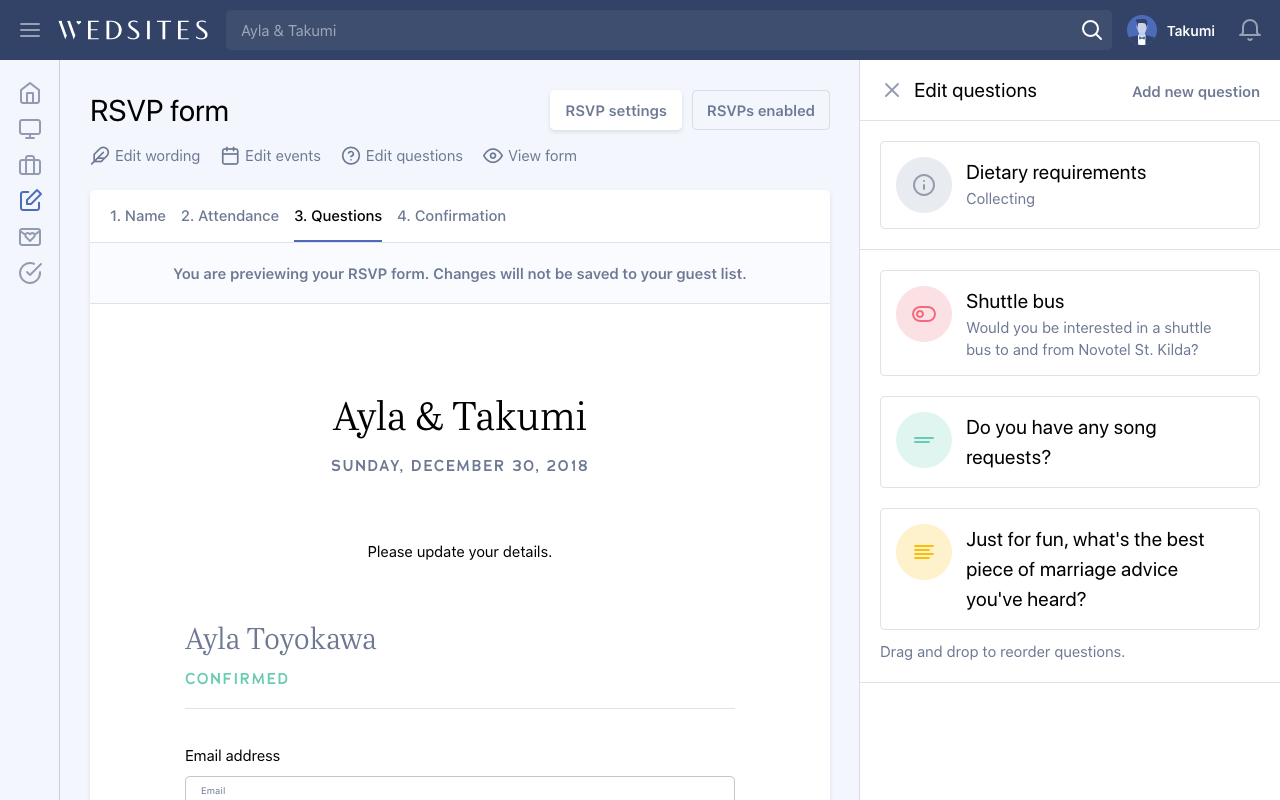 RSVP button
Adds a button on your wedding website to make it easy for guests to RSVP online.
Multiple events
Having more than one event? Choose which events each guest is invited to, and they can RSVP to each one!
Custom RSVP form builder
Create your own RSVP questionnaire form to get more insights from your guests to help you make better informed decisions.
RSVP summary
Get a quick overview of your RSVP responses and answers to your questionnaire form as guests begin to RSVP.
Standard + Pro
Paperless stationery
Digital save the dates
Customizable online Save the Date cards to match your website. Customize the wording and information to share.
Online invitations
Matching paperless invitations. Customize the information and wording shown on your cards.
Email updates
Send customizable emails through the platform to your guest list. Add call to action buttons asking guests to RSVP or send quick updates about last minute changes to your wedding schedule or plans.
Stationery tracking
Keep track of every email and stationery item you sent to each guest. Your guest list will automatically keep record of when you send out a Save the Date and or Invitation to each guest inside your guest list database.
Email outbox
Quickly refer back to each email and digital stationery item you sent out to guests.
Drafts
Create email drafts for messages to send later on.
Pro
Online wedding planner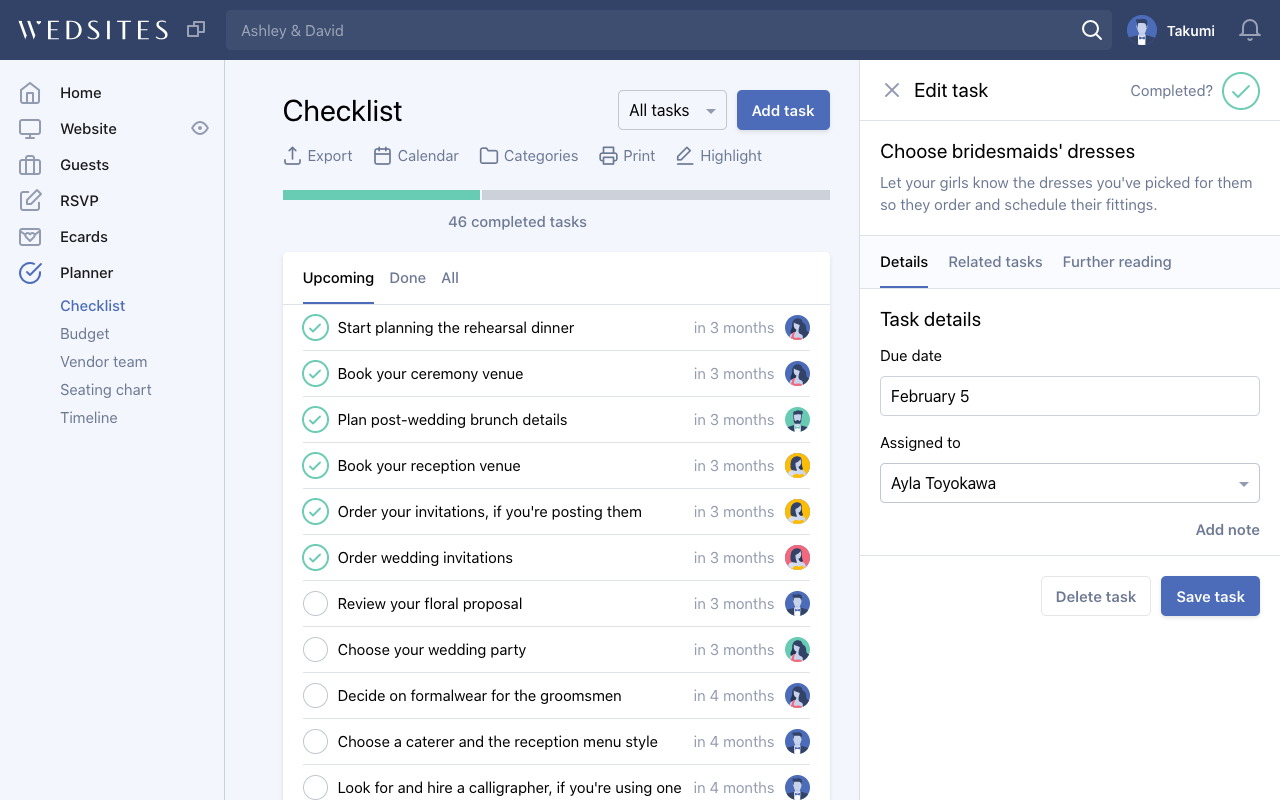 Checklist
Pre-populated checklist
Set your wedding date and receive a pre-populated wedding checklist with deadlines to keep you on track.
Add your own task reminders
Create your own list of to-do's and reminders throughout your wedding planning process.
Multiple user accounts
Invite your partner, bridal party, and or planner to help you plan.
Budget calculator
Create a budget
Add expense items to your budget calculator and keep track of how many outgoing expenses you've had and how much you have left to spend on your wedding.
Keep track of expenses.
Get a quick estimated breakdown of how to allocate your budget. Move funds around to create a realistic budget that will work for your vision.
Learn more
Vendor team
Build your vendor list
Keep all your vendor contacts in one place for easy referral.
Payment reminders
Upload and set payment reminders for upcoming invoices.
Printable
Print or download and quickly distribute your vendor team's contact information to everyone involved in bringing your event to life.
Seating chart
Drag-and-drop tool
Use the drag-and-drop seating chart builder to move guests around to help you find the perfect seating arrangement.
Group labels
Assigning friends and family into different groups will give them a color coded label next to their name for each identification when creating your seating chart.
Printable
Print out your seating chart to get a list of your guest's name and their dietary requirements. Share this document with your coordinator or the special person who is helping you set your tables.
Learn more
Timeline
Runsheet builder
Create your day-of timeline to determine how your wedding day will flow.
Printable
Print out your wedding timeline and share with your vendors and bridal party to get everyone on the same page.
Highlighter
Use the virtual highlighter to make notes and draw attention to important details.
Digital wedding planner
Wedding planning dashboard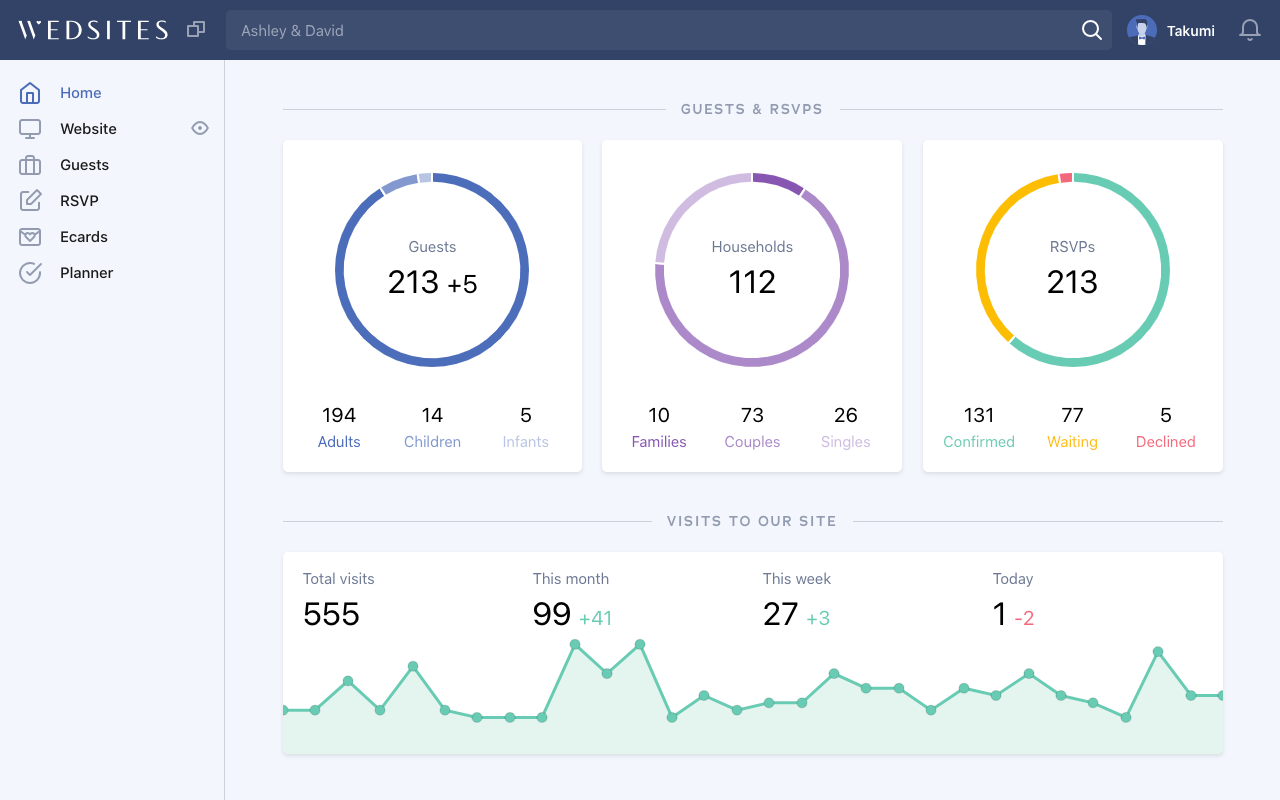 Wedding planning overview
Get a bird's eye view of your current wedding planning status. See what upcoming and urgent tasks you have, site visits to your wedding website, and an overview of RSVP's.
Guests & RSVP's widget
A quick look at the number of guests, +1's, households and RSVP statuses. Click through to view more information about your guests.
Manage multiple weddings
Option to add and quickly switch between the different weddings you are helping to organize.
Everything you need to organize your wedding in one place
Create a wedding website backed by a suite of the industry's leading team of smart event planning tools to get you from "Yes" to "I do".
Simplify the wedding planning process
Get an actionable step-by-step plan for your wedding, keep track of your budget, and streamline guest communication with ease.
Take back your weekends and save yourself hours of guesswork
Get instant access to all the tools you need to streamline your wedding planning. Hit the ground running and save yourself hours of research, stress, and overwhelm.
The smarter way to plan your celebration
From our crazy-intuitive wedding website builder and brainy budget calculator to a master planning checklist and sanity-saving, super-streamlined online RSVP's — WedSites offers all of the premium features you need for seamless sharing, whip-smart planning, and stress-free celebrating.
Wedding website with free hosting
Access to all customizable templates
Change your design any time without losing your work
Optional password protection
Site visitor analytics
Add links to your gift registry, cash fund or charity
Email & chat support
12 months free hosting
Get Lite
Build, design, and publish your own wedding website for free.
Standard
$ 159 NZD
one time payment
All Lite features
Guest list database
Unlimited guests
Collect online RSVP's
Custom RSVP questionnaire form
Paperless invitations
Digital save the dates
Custom email sending
Multi-event RSVP management
2 user accounts — invite your partner!
White glove customer support
24 months hosting included
Get Standard
Capture online RSVP's and streamline guest communication.
Pro
$ 319 NZD
one time payment
All Standard features
Personalized event planning tools
Digital checklist
Seating chart builder
Printable reports
Timeline creator
Budget calculator + tracking
Vendor payment reminders
Multilingual wedding website
5 user accounts
Get Pro
Access to all of our wedding planning tools.
One time payment. 14-day money-back guarantee. Accounts can be upgraded later by paying the difference.
Well documented, supported by real wedding pros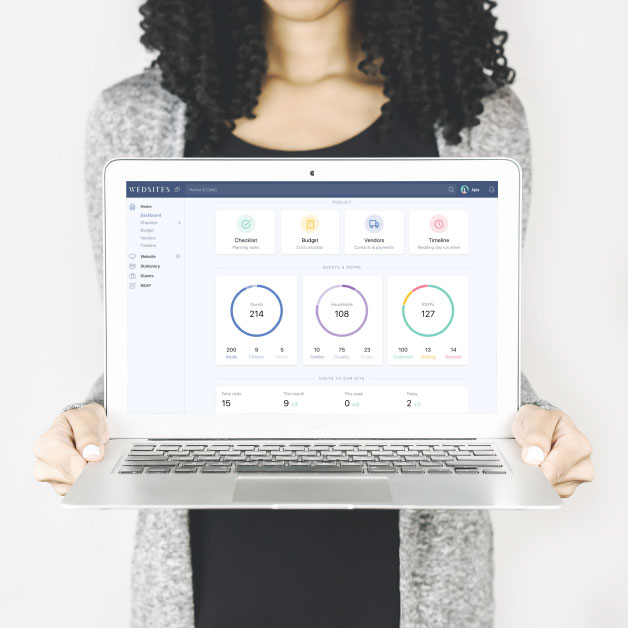 Getting started guides
Easy to follow step-by-step instructions on how to set up your wedding planning dashboard.
Video tutorials & tips
For those who prefer to watch videos, we've created video tutorials to walk you through the process.
Email & chat support
Get in touch anytime using our in-app chat. We love weddings and are always happy to help!
14 day money-back guarantee
We fully stand behind our product and are confident that you'll be happy with our platform to help you plan your wedding. That said, we understand that each wedding is unique. If things aren't working out and we can't resolve your issue, we're happy to give you a full refund within 14 days of the original purchase date.
Frequently answered questions
I don't live in the US, can I still use this?
Absolutely! We help couples around the world plan their weddings in their local currencies and set up their wedding websites in their own languages.
Can I pick and choose which features I want to use?
Yes! While our smart tools work best together to keep things streamlined, you can use the features that make sense for your unique wedding.
Can I use this with my partner?
Yes! You can give your partner, wedding party, and/or planner login access to your private dashboard so you can tackle this wedding together like a project management pro!
See how it works
Can I manage multiple weddings?
Yes. Wedding professionals using WedSites can easily add and switch between different wedding dashboards.
See professional plans