Finally, a wedding website you can translate into multiple languages
Planning a multicultural wedding? Inviting guests that speak different languages? No problem. We'll help you create a wedding website that will make all your guests feel welcome.
Multilingual wedding website
Create a wedding website where all guests feel welcome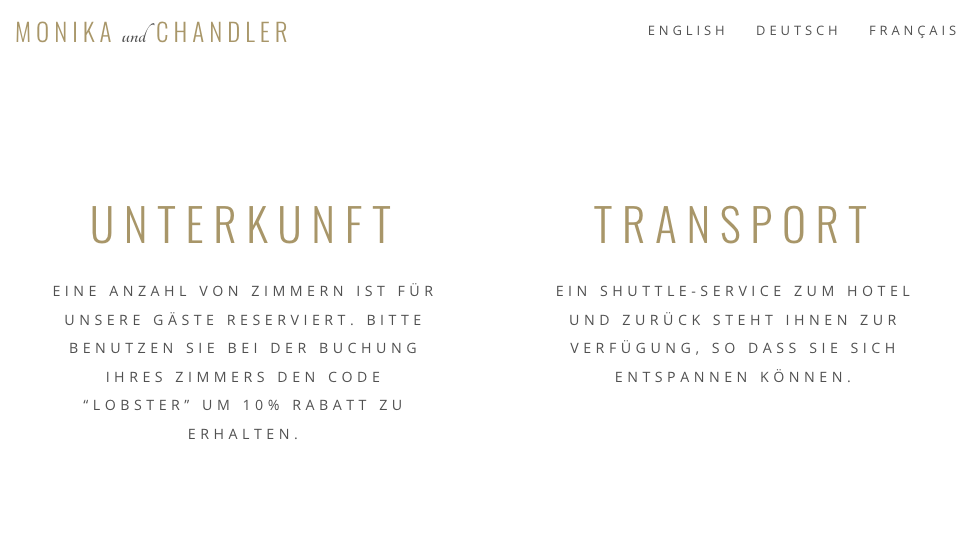 Language switcher
Same website, different languages
Quickly translate your existing website into another language to give your guests the same experience, but in their own language.
Preferred languages
Assign preferred languages for guests
We're guessing your guests are an international bunch! By assigning a preferred language, each guest will experience your wedding website in their native language.
Multilingual RSVP form
Allow guests to RSVP in their native language
Translate your RSVP form into different languages to give guests a seamless experience
Multilingual Invitations
Translate your online invitations
Send thoughtful digital Save-the-Date and Invitation e-cards in the language you want your guests' to receive them in.
Your entire digital wedding experience seamlessly translated
Adding paragraph after paragraph of translated text on your wedding website doesn't look pretty. Duplicate your existing website and translate it into different languages so your guests enjoy all the information you've provided them with.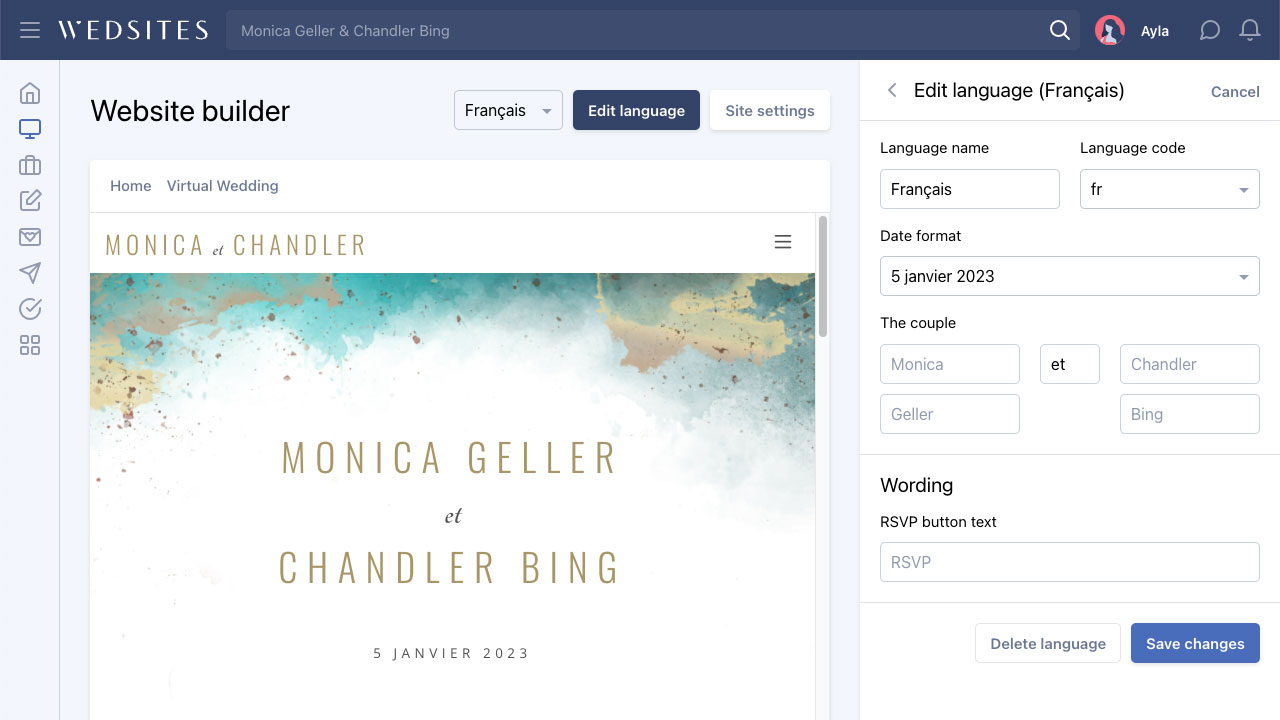 Choose the language each guest will experience
Give guests a native experience when visiting your wedding website by preselecting their preferred language. No more awkward computer generated translations allowed!
Translate your RSVP form and digital invites, too
By translating every touch point with your guests, you are guaranteed to give them a thoughtful and cohesive experience in their native language.
Create a thoughtful wedding website and plan your multicultural wedding in one streamlined place.
Sign up to WedSites Pro for instant access to:
Fully customizable wedding website builder
Duplicate and translate your wedding website into multiple languages
Access to all templates, change anytime
Share your RSVP form in multiple languages
Preselect languages for each guest in your guest list
Online RSVP management
Create your own RSVP questionnaire form
Track RSVP attendance for multiple & private events
Hide or show events depending on who's looking
Send different languages for the Save-the-Date and Invitation
Access to all the wedding planning tools
Live chat customer support + documentation to help you every step of the way
24 months of hosting. One-time payment.
Frequently answered questions
How many languages can I translate my wedding website into?
Most of our couples need two or three languages, but you can add as many languages as you want!
Can I use my own custom domain?
Yes, if you've already purchased a custom domain we can help you forward guests from your custom domain to your wedding website!
Can we really customize every detail from English to another language? Or are there fields where the default language will stay in English?
While the backend tools are currently only available in English, all the touch points with your guests can be translated into any language.
Is it possible to customize in a way that basically provides the same website in two different languages with no English being involved?
Yup! So here's how it works. Once you've created your wedding website, you'll be able to duplicate it and translate all the content into another language.
Can I start with Free or Standard and upgrade to the Pro plan later?
Yup! You're more than welcome to test the waters with the free plan and start creating your wedding website before jumping into WedSites Pro to translate your website into different languages.
Will someone help me if I get stuck?
Of course, we won't leave you hanging! If you can't find the answer you're looking for in our help desk, you can reach us anytime through our in-app chat where you'll be able to speak to a real person.
Visit the help desk
Still not sure? We're here to help.
Create a beautiful multilingual wedding website and make wedding planning easier with WedSites.
How it works