"I need a better way to keep track of RSVP's"
Seamless online RSVP integration with your one-of-a-kind wedding website. Set up your own custom questionnaire form, invite guests to private events, and streamline the RSVP process.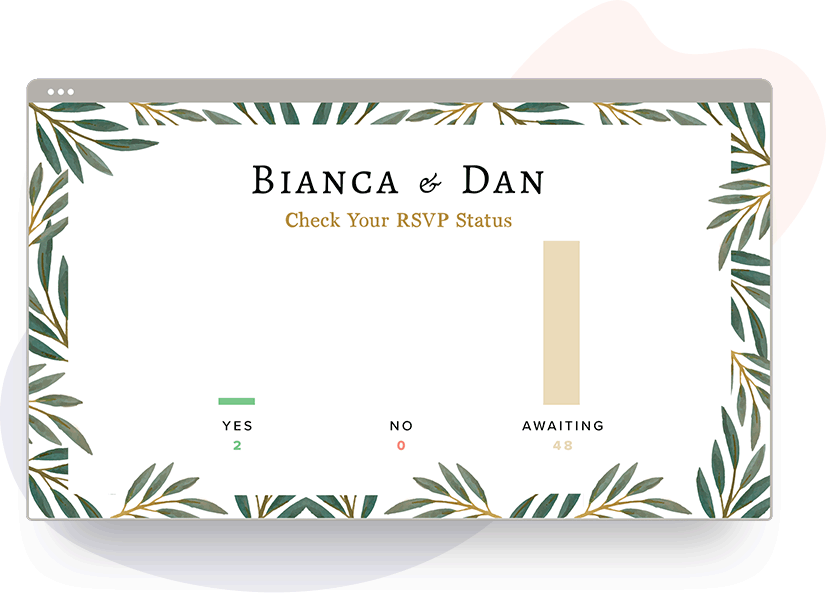 Online RSVP's
The easiest way to manage your wedding RSVPs.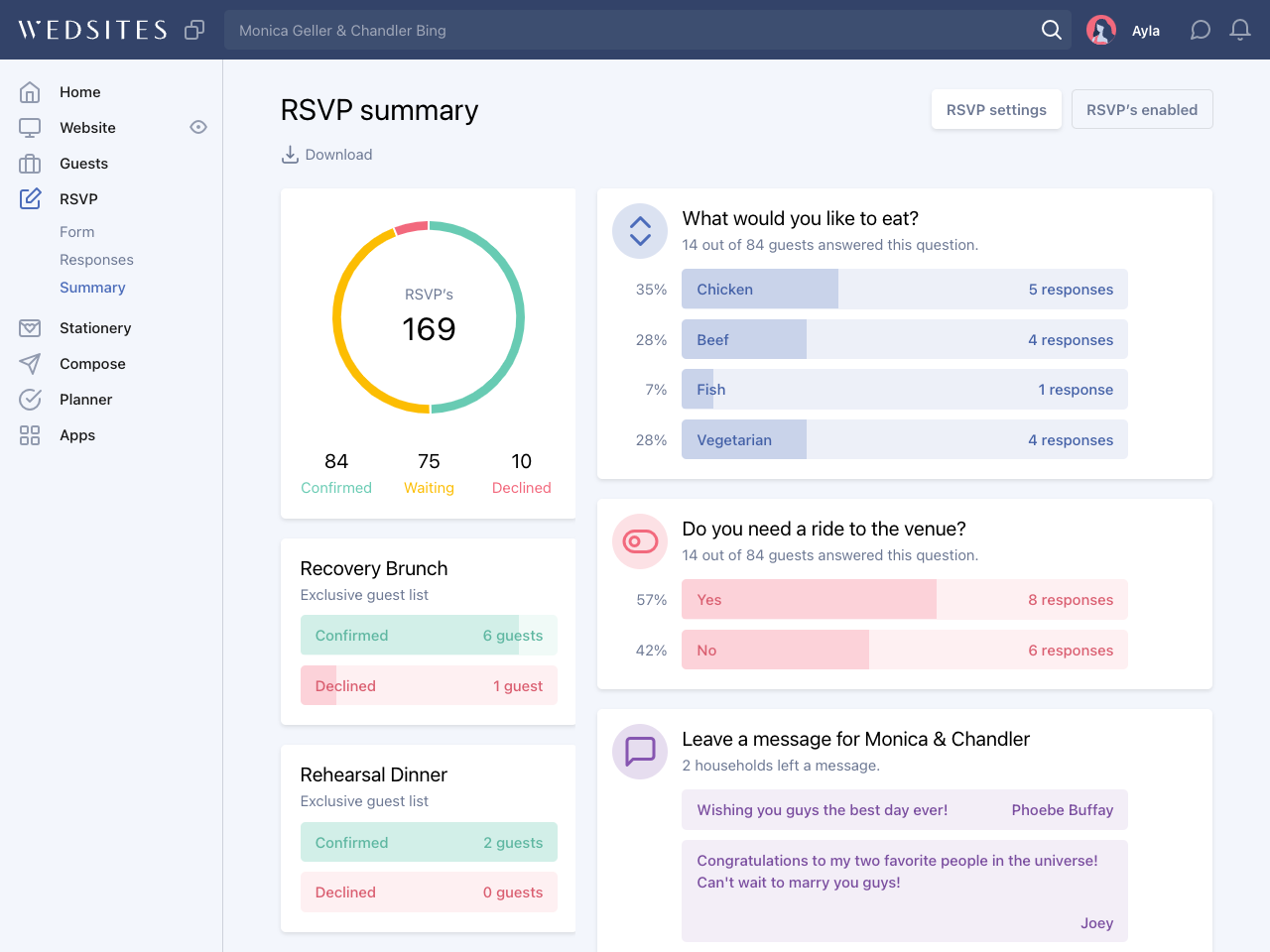 Click, reply, done deezy.
Without smart RSVP management, you'll find yourself doing a lot of manual work following-up with guests or updating spreadsheets. If you don't know their dietary preferences or which events guests can attend. You won't be able to make informed decisions and you can't say "We've got 14 vegetarians, 4 with peanut allergies, and 46 guests who need transportation to the venue." Which means you can't give your vendors accurate information when asking for quotes.
Streamline the RSVP process. Get the answers you need from guests and set up your own online RSVP form inside WedSites.
Tracking our RSVP's was a breeze and we also were able to collect additional info from our guests! Being able to create a weekend schedule of events was amazing.
– Kelly, Seattle, USA
Custom RSVP questions
Create your own RSVP questionnaire
Go beyond attendance questions and ask guests for their meal choices, travel plans, and anything else you need to know. Ask guests important questions related to each of your unique events.
Schedule of events
Have control over what guests see
Display a schedule of events on your wedding website. Show and hide events based on who is visiting. Personalized views only display the events specific guests have been invited to.
RSVP notifications
Instant RSVP updates in your inbox
Get notified anytime someone RSVPs. Last minute changes? Don't miss a beat. Send quick email updates straight to your guest list.
Multiple events
Ask guests to RSVP for other special events
Drag-and-drop website builder to help you customize every section of your website. Upload your own images, videos, illustrations and calligraphy. Choose the wedding building block sections to add information.
Households and +1's
Families, couples, and singles with +1's can respond together
Group guests together so one person can RSVP behalf of their party. Assign who gets a plus ones and allow guests to give you their date's name. Watch your guest list automatically update with the final guest count and names.
WedSites streamlined the whole process for me. Collect details, track RSVPs! Saved time and sanity.
– Kaila, Melbourne, Australia
Website integration
Smart online RSVP system seamlessly integrated with your wedding website & guest list.
Save yourself heaps of admin time managing and chasing up RSVP responses. Say goodbye to updating spreadsheets, having to follow-up with guests about other events, or waiting around for traditional RSVP cards to be mailed back. Online RSVPs are the easiest way to keep track of your guests' preferences in one sweep.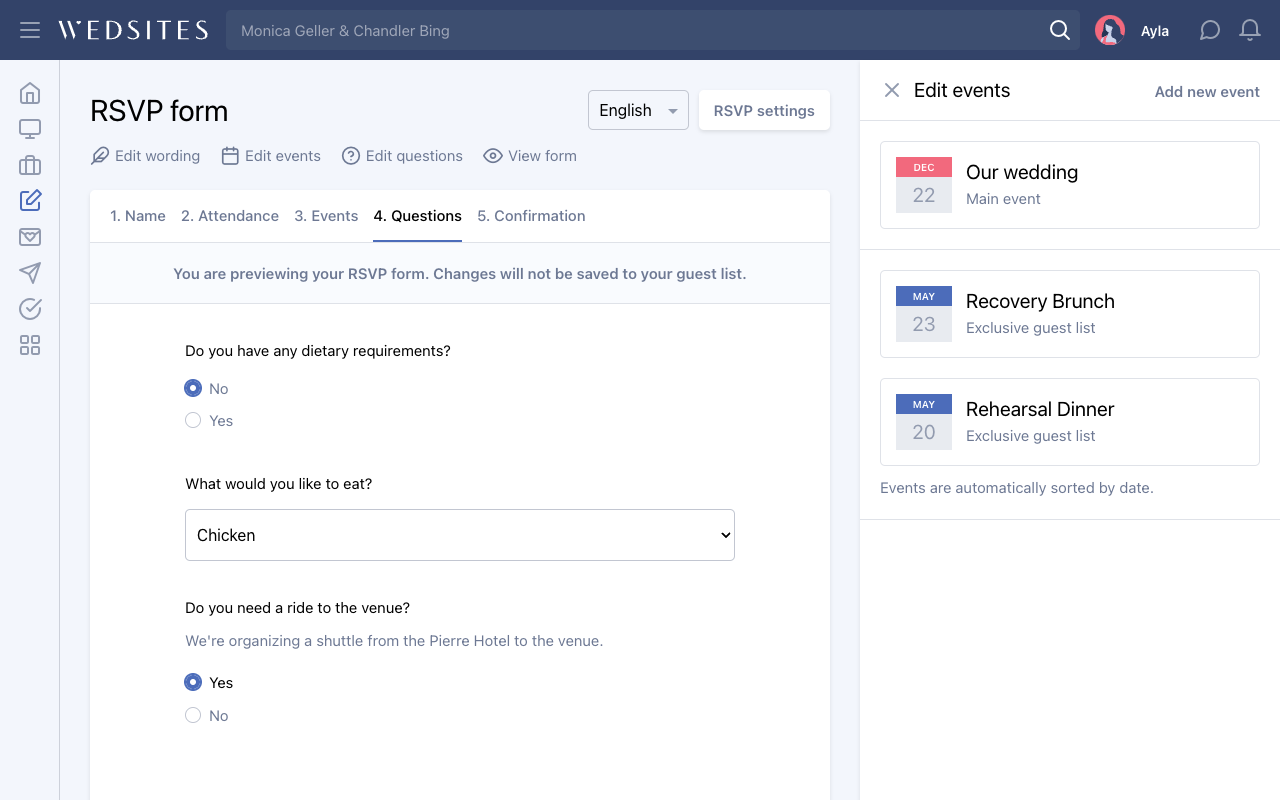 Your one stop shop for creating a beautiful and functional wedding website
Design your own custom wedding website and share all the information your guests need to know about your big day. Share the schedule of events to help guests prepare and make it super easy for them to RSVP with just a couple of clicks!
More affordable than traditional RSVP cards
Make it easy for you and your guests by setting up online rsvps and watch those responses roll in with just a couple of clicks. Saving money on postage costs and being friendly on the planet is an added bonus!
More efficient than updating a spreadsheet
Plan ahead and set yourself up for wedding planning bliss. Watch those responses roll in as your guest list is automatically updated with multiple event attendance, dietary requirements, meal choices, and more. All the tools inside of WedSites work together to give you the latest information about your wedding.
I love that I can invite guests to some or all events. It's also nice that guests can accept or decline each of those event invites. The experience is good for both the sender and recipient. This is what I found to be the primary challenge with the other sites and platforms I used prior to WedSites
– Kate, UX Designer, USA
Create a smarter wedding website to make your life easier.
Guests can RSVP with a few clicks
Track attendance for multiple & private events
Create your own RSVP questionnaire form
Ask questions for guests attending specific events
Automatically syncs with your guest list manager
Seamlessly integrates with your custom wedding website
Allow families, couples, and singles with +1's to RSVP together
Limit RSVPs to people on your guest list (optional)
Receive RSVP notifications in your inbox
Open and close the RSVP form
Easy sorting and exporting of RSVP data
Send quick emails to guests. Perfect for any last minute changes.
Friendly RSVP reminders. There's always that one friend who forgets.
Hide or show events on your schedule depending on who's looking
Drag-and-drop reception seating chart builder (Pro only)
Multilingual RSVP form. Share your RSVP form in multiple languages
Live chat customer support + documentation to help you every step of the way
24 months of hosting. One-time payment.
Frequently answered questions
How do guests' RSVP? Do they have to sign up too?
Your guests literally just need to visit your website and click to RSVP from their desktop or mobile device. No need to sign up or download anything.
Can I integrate your RSVP system with my custom website?
Yes! If you're looking for a way to manage your RSVP's, you can still use WedSites to complement your wedding website to complete the experience.
Can I still use online RSVP's if I'm sending paper invitations by post?
Absolutely! All you need to do is include a line on your invitation asking guests to RSVP on your wedding website.
Do you support multilingual translations?
Ja! Oui! Si! We have multicultural couples from all around the world creating their wedding websites in their native languages. While the backend tools are only available in English, your guest-facing website and RSVP can be translated into multiple languages.
Can I hide/show events in my schedule from certain guests?
Yes, you can choose which events to display to specific guests who visit your website so they only see the events that they've been invited to.
Can I start with Standard and upgrade to the Pro plan later?
Yup! You're more than welcome to test the waters with the Standard plan before jumping into WedSites Pro to unlock all the planning tools to keep track of all your wedding related to-do's in one place.
Will someone help me if I get stuck?
Of course, we won't leave you hanging! If you can't find the answer you're looking for in our help desk, you can reach us anytime through our in-app chat where you'll be able to speak to a real person.
Chat with us
Visit the help desk
Can I manually keep track of RSVP's for my older and less tech savvy guests?
Definitely! While any information submitted through your guest collection and RSVP forms will be saved inside your guest list, you always have the option to manually keep track and add your own notes as well.
RSVP tips & wording examples
I wanted a wedding website that I could customize easily and I've found that and more with WedSites! My younger sister is also planning her wedding and is using a different website.. she keeps saying "I should have listened to you and used WedSites!" (No joke!)
– Alexandra & Robert, Portland, USA
Still not sure? We're here to help.
Create the wedding website of your dreams and make wedding planning easier with WedSites.
See all plans