Create your
one-of-a-kind
wedding website.
Less than thrilled about your basic wedding website? Looking for more flexibility and customization options? Say goodbye to cookie-cutter templates, limited functionality, and rigid solutions. It's your wedding, you deserve better.
Planning my wedding with WedSites was so much more straightforward than I could've imagined. I felt like the planning process was relatively stress free, which is what happens when you have all the right tools at your disposal. And we got so many compliments on our wedding website!
– Steph & Ryan, Melbourne, Australia
Start with any one of our templates to customize a website that is uniquely you.
Meet the wedding website builder that does it all.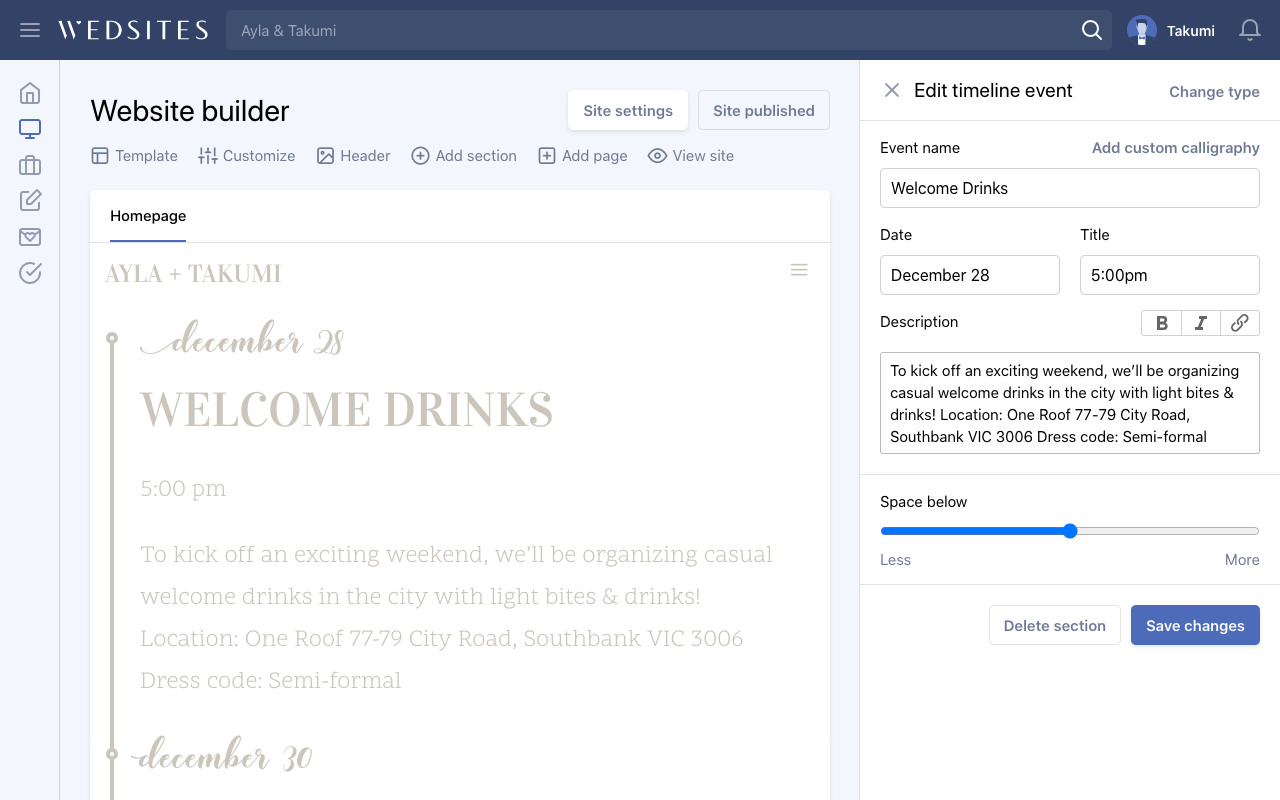 A central hub for all your wedding details
Your website is the perfect place to share all the big and small details about your special day! From the dress code to directions on how to get to the venue, your future self will thank you for answering questions guests would otherwise text you about on your wedding day.
Customizable wedding website templates
Run with an existing design or use it as a starting point and modify your own color palette, upload photos and design assets. All your wedding website templates are customizable so you have full control over the layout, menu bar, content blocks, and button links.
Designed specifically for weddings
Your wedding isn't a lifestyle blog or an e-commerce site—so why build your website like one? Each of our website building blocks was specifically designed for sharing information about weddings and weddings only—so you can skip the hassle of work-arounds, forget about unnecessary modules, and kick useless features to the curb.
Total control over who sees your events
Optional password protection and limiting RSVP's to only those listed on the guest list allow you to remain in total control of your affair. Plus, our wedding websites are always ad-free, optimized for mobile, and accessible anywhere, anytime, from any device.
See ya later, snail mail
Every wedding website includes matching paperless save-the-dates and invitations—so you can send your guests stunning e-stationery with just a few clicks. The best part? You can instantly see which guests have clicked-and-opened versus which need some nudging to RSVP.
The chatbox in the dashboard makes it really easy to get in touch with the WedSites team and they're quick to respond to questions. I absolutely appreciate how they are very accessible. They also send out helpful emails, not just for their product but for wedding planning too!
– Celine S.
Simplify guest communication with smart tools
Communicating with all your guests is hard when you're running against the clock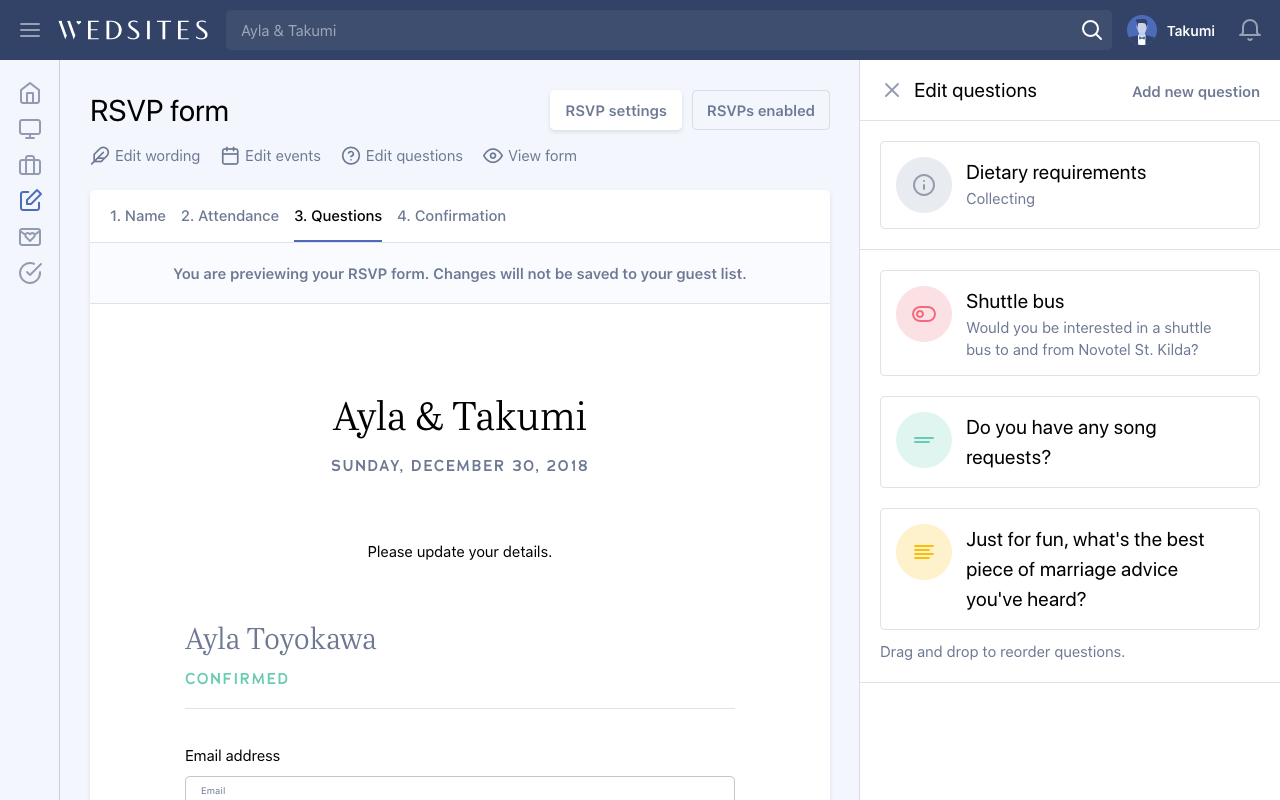 Guest list database
Everything you need to know about your guests in one place
From address collection to RSVP responses and dietary requirements, your wedding website will store every single little detail about your local and out-of-town guests.
RSVP form builder
Add your own RSVP questions
Ask your guests for their dietary requirements, where they're staying, or if they've got any song requests! Create your own RSVP questionnaire to gain insights from your guests to help you make better wedding decisions along the way.
Online RSVP's
Allow guests to RSVP online
Save yourself the time and extra postage costs of sending mail-in cards. Guests can RSVP with a click of a button, how easy is that?
Automatic RSVP reminders
Stop chasing RSVP's
Get a quick overview of your guests to see who is attending, regretfully declined, and who you're waiting to hear back from. Send gentle reminders to guests to remind them of the approaching RSVP deadline. There's always that one friend!
It's time to make your wedding planning easier
Share everything guests need to know on your website. Easy one-click RSVP's. Get all the tools and steps you need to plan this wedding from one brilliantly organized place.
Time and money saved so you can enjoy your engagement
Step-by-step professional guidance on how to plan your wedding. Budget tracking so you don't break the bank. Say goodbye to extra postage costs or time wasted chasing guests. Click, reply, done for you.
Create a smarter wedding website to make your life easier.
Wedding website builder. Drag, drop, done.
Wedding building blocks. Change layouts, buttons, links.
Add your own photos, videos, illustrations and calligraphy
Access to all customizable designs. Change your template any time.
Matching paperless save-the-dates & invitations
Privacy & password protection options
Guest list database
Online RSVP's
Add your own gift registry
RSVP form builder. Add your own RSVP questions
Send emails to guests. Perfect for any last minute changes.
Automatic RSVP reminders. There's always that one friend.
White-glove support
Unlimited hosting. One-time payment.
Frequently answered questions
I'm more of a pen and paper person, can I still use this?
There's something psychologically rewarding about putting pen to paper. We get it! That's why you can print out your custom checklist, guest list, and other wedding reports straight from your dashboard.
What should I include on my wedding website?
Your wedding website should cover the basics of who, where and when! Your names should be front and center, along with the details of your wedding date, when the ceremony starts, the wedding venue locations, and your RSVP by date. Your guests will also be wondering whether you have a gift registry, any hotel room blocks, or transportation to the venue, so make sure to include this if applicable.
Once you've covered these details, you may want to add a bit of fun into your wedding website by sharing the story of how you two met, the proposal story, and/or a short bio for each of your bridal party members!
When should I create my wedding website?
You can start creating your website as early as you'd like, but we recommend having it published by the time you send out your save the dates - before the 6 month mark. At WedSites, you can continue to make edits to your website even after you hit publish. So even if all you have is your date, you can still get the ball rolling and create your site. You can add more details as you figure them out!
How should I share my wedding website?
If you're opting for paperless stationery, we make it super easy for you to share your wedding website with your guest list. All you need to do is send them your electronic save the date or invitation and they'll be directed to your website.
Sending physical stationery? No problem. Lots of couples include their wedding website on save the dates and invites. It's the perfect way for guests to find all the details about your event without overcrowding your beautiful stationery card.
Skipping stationery all together? Easy. Copy the link and send it to your guests by email or your favorite messaging app!
How much does it cost to create a wedding website?
Your investment to create a wedding website with online RSVP's is a one-time fee of $99. No recurring fees or subscriptions to worry about cancelling.
I already bought a domain name through another service. Can I still use it for my wedding website?
Yes! Follow our step-by-step guide to automatically forward guests from your custom domain to your wedding website!
Can I just use the online RSVP feature?
Yes. Even if you've designed your wedding website elsewhere, you can still use our online RSVP features to complete the experience.
Can I still use a wedding website if I'm sending paper invitations?
Absolutely! You can use a wedding website to complement your paper invitations and share all the extra details about your event without overcrowding your beautiful paper stationery.
If you're opting for online RSVP's, simply include a line on your invite asking guests to RSVP on your wedding website!
Can I create my wedding website in another language?
Yes! We have couples from all around the world creating their wedding websites in their native languages. While the backend tools are only available in English, you can create multiple language versions of your wedding website. You can also specify a preferred languages for each guest so they will automatically see the website in their native language - how thoughtful is that!
Learn more about multilingual wedding websites
Can I change my wedding website once I've published it?
Yup! You can always make changes to your website after you've published it, including the design.
Can I password protect my website? How does this affect RSVP's?
Absolutely! We get that you might not want the world to see your wedding website, so you can add a password to protect your website from the public eye. Just remember to share that secret code with your guests so know how to access and RSVP on your site.
It looks like there are a lot of different widgets in each template. Can I pick and choose the sections I want to use?
Absolutely! Our wedding website builder allows you to pick and choose the sections you want on your site. If there's something that doesn't apply to your wedding, you can remove it entirely.
How can I get help if I have questions?
If you can't find the answer you're looking for in our help desk, you can reach us anytime through our in-app chat where you'll be able to speak to a real person.
Chat with us
Visit the help desk
Wedding website wording examples & inspiration
Having a wedding website allowed us to have a smooth way of capturing RSVP's and disseminating a large amount of information to our guests. After googling all the available wedding websites, we chose WedSites because it felt more personal. Being able to speak to a real person who is super lovely has been the best thing!
– April & Tracy, Sydney, Australia
Create the wedding website of your dreams and make wedding planning easier with WedSites.