"I'm so overwhelmed.
I need help planning
my wedding."
Go from crazy overwhelmed to oh-so empowered with streamlined checklists, budget tracking, and tools designed to save your sanity and keep you on track. (Stress-free looks good on you.)
WedSites tells me everything I need to get done, I can see everything in one place without having to write everything on scraps of paper. It's so conveniently organized.
– Megan, Toronto, Canada
Digital wedding planner
Everything you need to organize a wedding in one simple place.
Shortcut the hours of research and googling how to plan a wedding.
Say goodbye to multiple spreadsheets, email threads, and scraps of paper.
Let's get you organized and plan this wedding the right way - we'll show you how.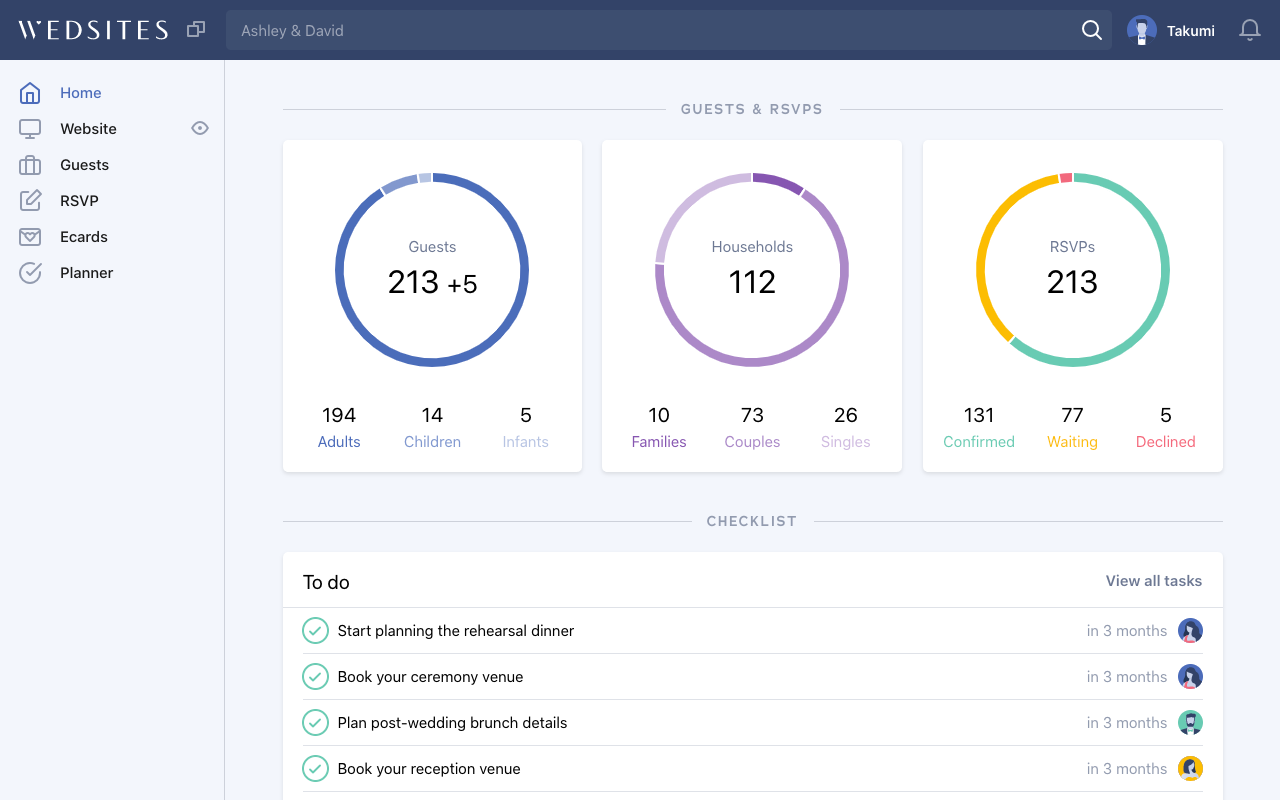 Personalized checklist
Your path to wedding planning bliss
Your own personalized checklist with all the tasks and things to consider for your wedding. Tasks broken down into categories. And due dates based on how much time you have to plan your big day!
Budget calculator & vendor payments
Keep track of your expenses
Use the budget calculator to help you create a realistic budget, track expenses, and get an estimated breakdown for each area of your wedding. Set payment reminders for vendor invoices so you never miss a beat.
Task delegation
Easy-breezy collaboration
Multi-user accounts and the ability to assign tasks to each other mean you both can contribute to the planning process (and share the credit for a party well planned!). You've got this whole teamwork thing down.
Printable reports
Printable reports for your big day
Print off reports to get your vendors up to speed. Share dietary requirements and seating arrangements with your caterer. Your vendor contact details and day-of timeline with your wedding coordinator, bridal party, and anyone else who's helping you on your big day!
Grooms love us too!
I tried other wedding planning sites and found them to be very much style with no substance. One wouldn't let me sign up because they told me that the groom isn't usually involved in the process. I started to think no one had brought project management to weddings in a thoughtful way until I found WedSites. As soon as we logged in there was an option to have us both sign up, and we could start assigning tasks between the two of us.
– Jesse, Nevada, USA (Groom)
Your secret weapon to a stress-free wedding planning experience.
If you've been Googling your way through planning this wedding...
Replace "I don't know what to do" with insightful guidance from wedding professionals.
Shortcut the days, weeks and months of stressing out over your wedding. In WedSites, you'll get a personalized digital wedding planner full of professional advice and guidance at a fraction of the cost. Time-saving tools to get you organized. And a wedding website that'll get your guest details and RSVP's fast. Because wedding planning isn't easy. It's a full-time job.
Everything about your wedding in one brilliantly organized place
It's time to treat planning your wedding like the project management task it is with a suite of the industry's smartest wedding planning tools.
When you get WedSites Pro, you'll get instant access to:
All of the smart project management tools inside WedSites
Overview of planning progress and upcoming tasks.
An in-depth checklist of important to-dos you might not have considered.
Task reminders, progress reports & notifications
Budget calculator & expense tracking
Multi-user accounts for planning collaboration & task delegation.
Wedding website builder
Access to all design templates + matching paperless stationery
Guest list database
Easy address collection from guests
Online RSVP's + custom RSVP questionnaire form
Multi-event RSVP's. Private guest lists per event.
Send and track emails.
Automatic RSVP reminders
Vendor team contacts & payment reminders.
Printables for your day-of admin to share with vendors
Drag-and-drop seating chart builder
Wedding day timeline generator
Ad-free wedding planning dashboard
White-glove support from real people
Still not sure? We're here to help.
Frequently answered questions
I'm more of a pen and paper person, can I still use this?
There's something psychologically rewarding about putting pen to paper. We get it! That's why you can print out your custom checklist, guest list, and other wedding reports straight from your dashboard.
I don't live in the US, can I still use this?
Absolutely! We help couples around the world plan their weddings in their local currencies and set up their wedding websites in their own languages.
Can I use this instead of hiring a wedding planner?
It's possible! Wedding planners are worth their weight in gold, but we understand that not everyone can afford to hire one. WedSites could be the next best thing in keeping you organized and on track with your wedding planning.