A project management platform that your wedding couples will love to use.
The world's first all-in-one wedding planning platform designed with couples in mind. Give your clients an easy-to-use, dedicated online portal that makes you look professional, gives them a great experience, and helps you stand out from the crowd.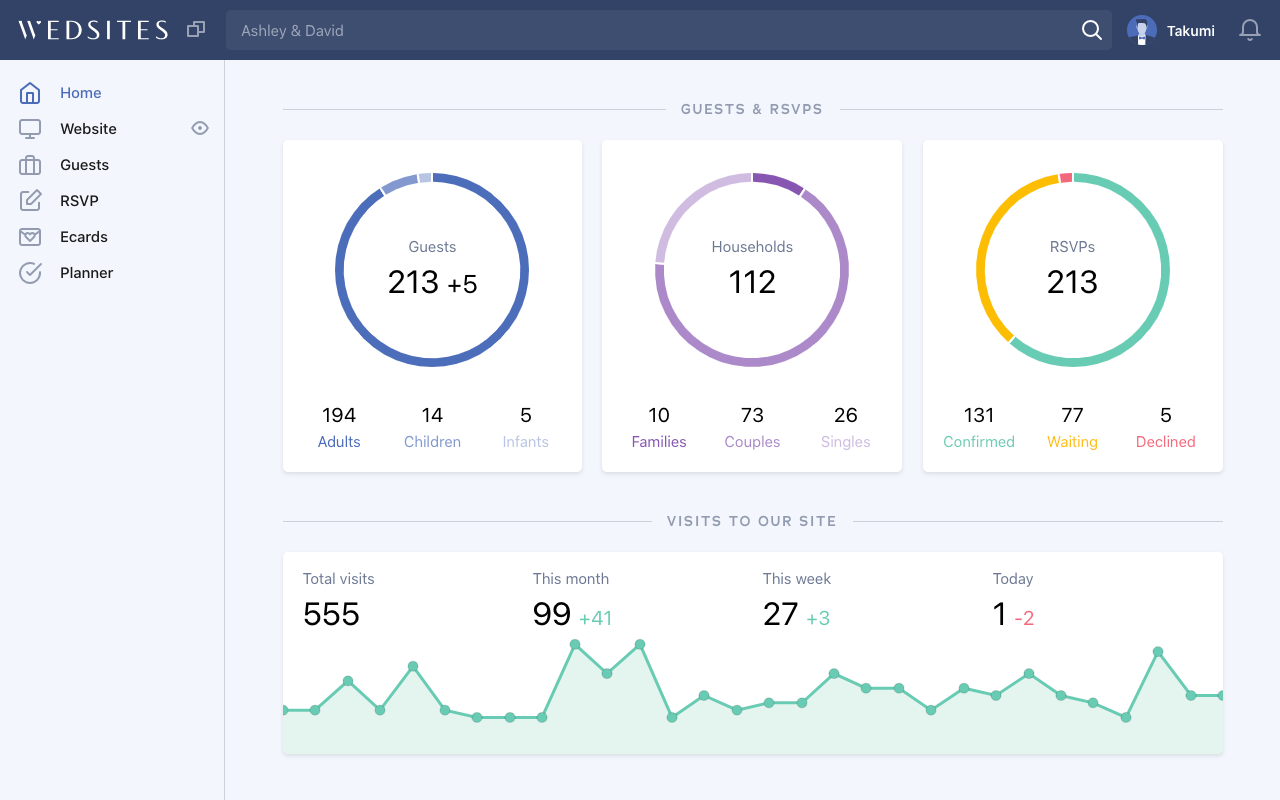 I was looking for a platform that was easy to use for my clients and would help to make their process of planning their wedding easier. I wanted something that would be useful for my team of Planners, but was created first and foremost for the couple. And then I found WedSites.
– Christine Ligthart, Wedding Coordinator & Founder, I Do Crew
View case study
Wedding planning tools
A collaborative online space dedicated to helping your couples plan their wedding.
Customizable checklist
Keep your clients on track
A customizable checklist with tasks broken down into categories and due dates.
Budget calculator + tracker
Help them create a budget
Intuitive budget calculator to help couples create a realistic budget and track their expenses.
Vendor contacts + payment reminders
Build your dream team
Quickly see who will be there on-the-day and spot any outstanding payments before issues arise.
Printable reports for on the day
Share professional reports with other vendors
Beautifully formatted printable reports to get other vendors up to speed. Quickly share dietary requirements, seating arrangements, vendor contact details, and the day-of timeline with everyone involved.
Our idea to offer Wedding Website Management for our clients came as a result of the covid pandemic. WedSites is easy to use for myself and my team, and the added website features available through the wedding planning platform are great. My clients are amazed and love it!
– Ramona Burki, Wedding Planner & Founder, Element Events by Ramona
View case study
Custom design + easy communication
A high-end customer experience for your clients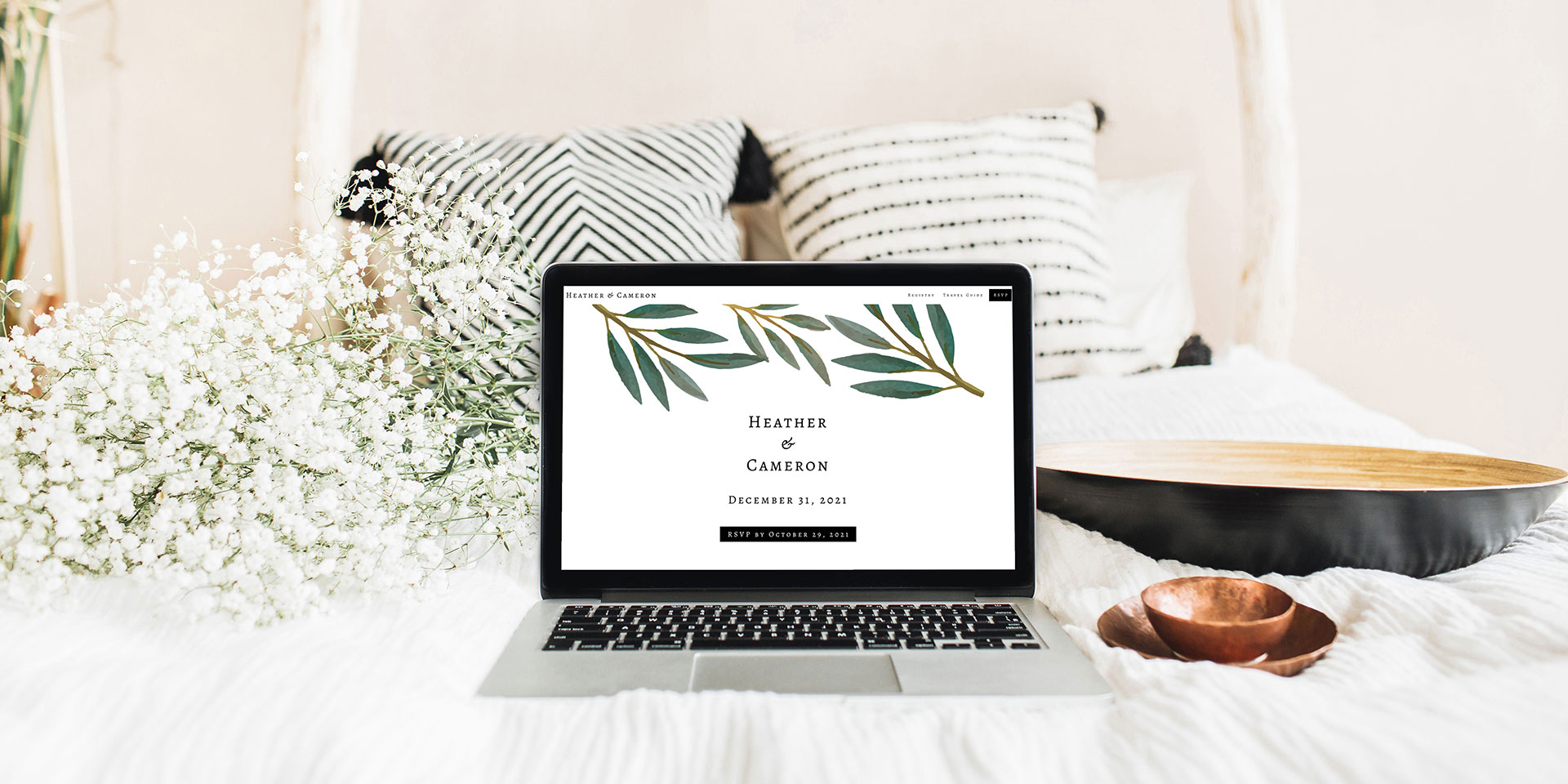 Customizable website builder
Fully customisable wedding websites
Help your couples design a beautiful website that they will be proud to share with their guests. Upload your own assets. Graphic designers, rejoice!
Digital stationery
Send your own digital save-the-dates
Upload custom designs and send guests eco-friendly ecards straight from the platform.
Custom uploads
Keep a cohesive look across digital and physical stationery
Create a one-of-a-kind digital experience by uploading graphic assets and quickly create a wedding website to match paper stationery.
I had a couple design their own wedding website using the assets I created for them and they loved using WedSites - said it was easy and straightforward; often with websites, clients need a lot of hand-holding to become the key user of their site so this was a lovely surprise! I've loved working with WedSites and my clients have been really happy with their websites.
– Lauren Hung, Calligrapher & Graphic Designer, The Blackline Bottega
View case study
Online RSVP's
Make the RSVP process easier for everyone
Dietary requirements
Dietary preferences and meal options sorted
Quickly gather everyone's dietary preferences and meal choices for the catering team.
Multiple event RSVP's
Collect RSVP's for private events
Invite special guests to intimate events and track additional RSVP responses in one sweep.
Trusted by thousands of couples in over 50 countries worldwide
I started to think that no one had brought project management to weddings in a thoughtful way until I found WedSites. As soon as we logged in there was an option to have us both sign up, and we could start assigning tasks between the two of us from their pre recommended tasks.
– Jesse, Nevada, USA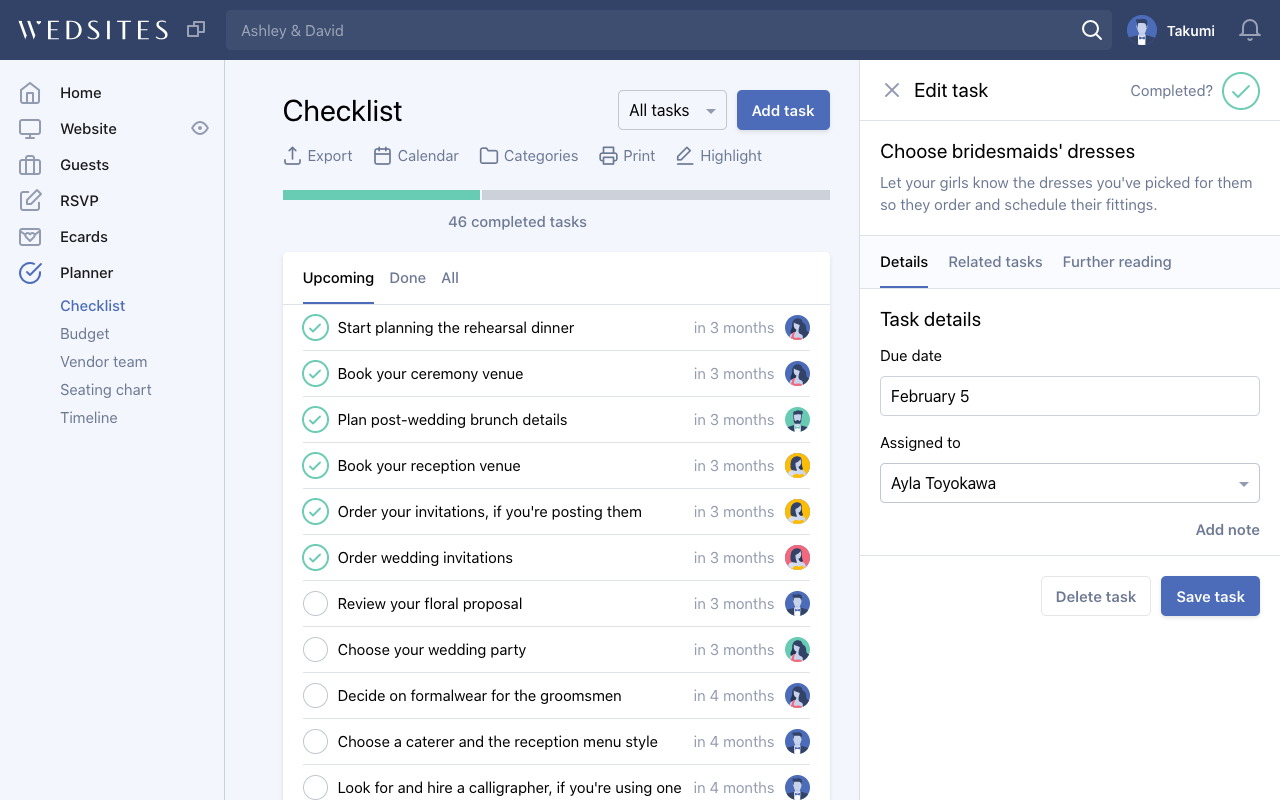 A client login portal your couples will love to use
WedSites has all of the bells and whistles to guide couples through the process. Create a to make it easy for you to onboard your clients in a professional way.
Spot red flags from weeks away
Get a visual overview of how much planning your client has done. WedSites gives you an additional layer of information to help you spot red flags before they rise.
The cherry on top for booking with you
Give couples a beautiful onboarding experience and access to their own personalized wedding planning portal.
Replace your basic spreadsheets with a professional online portal dedicated to help your clients plan a stress-free wedding.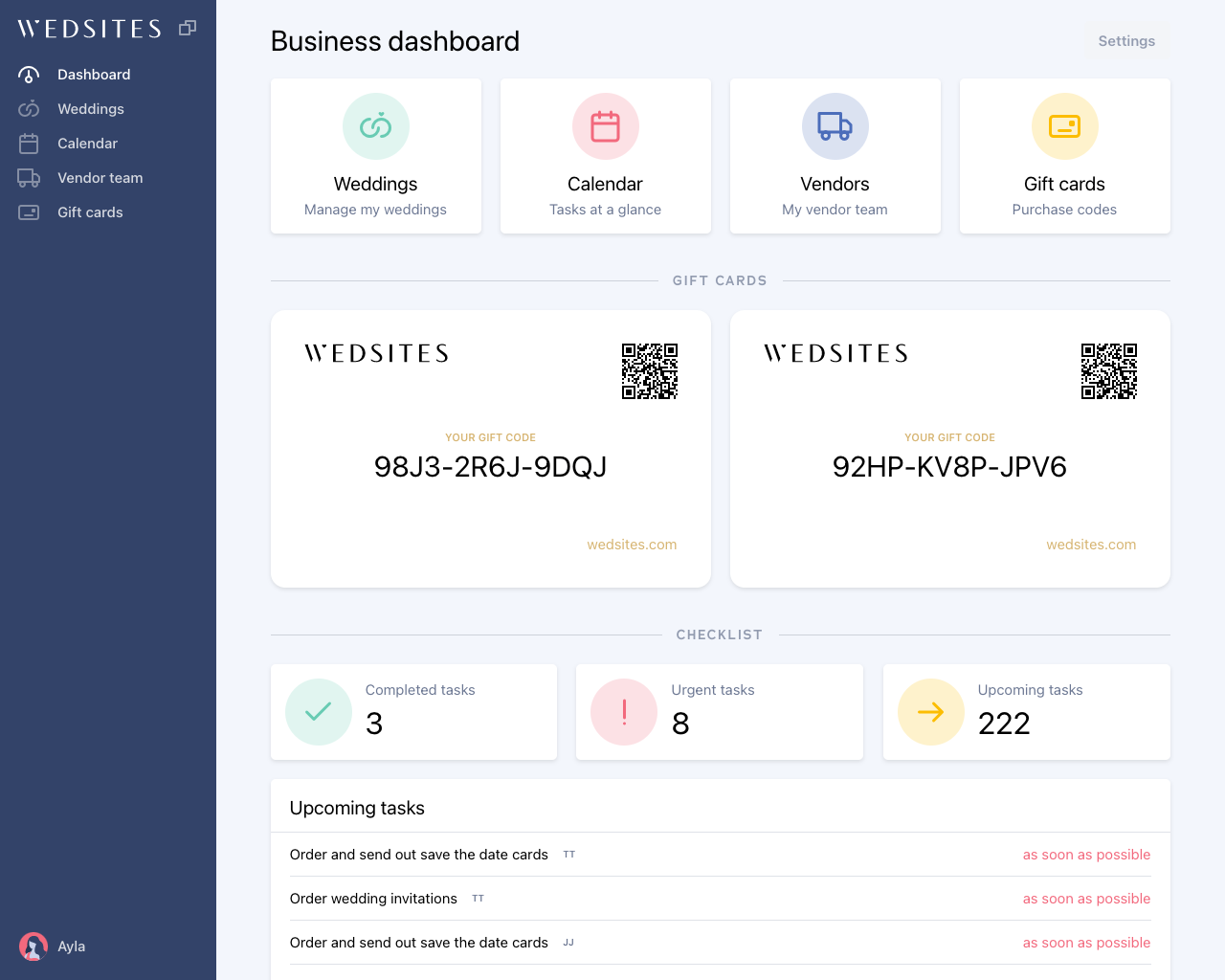 A collaborative space to work with your clients
Customizable planning tools to suit each wedding
Easy client onboarding
Control what is visible to the client
Help couples streamline communication with their guests
User-friendly + ad-free interface
Guestlist database for keeping track of guests
Fully customizable wedding website builder
Streamlined RSVP & dietary preference collection from guests
Vendor team contacts & payment reminders
Printables for your day-of admin
Wedding day timeline generator
White-glove support from real people
Plans + pricing
Pay for only what you need
One wedding
$ 199
one time payment
Includes 1 wedding account
Send as digital gift cards or set up yourself
Access to all wedding planning features
Business dashboard
Priority support
Start with 1 wedding
Start with 1 wedding and add more later.
Five weddings
$ 995 499
one time payment (save over 30%)
Includes 5 wedding accounts
Send as digital gift cards or set up yourself
Access to all wedding planning features
Business dashboard
Priority support
Whitelabeling — add your own brand!
Start with 5 weddings
Get instant access to custom branding.
No recurring fees. 14-day money-back guarantee.
Unlock custom branding when your account has 5 or more weddings.
Additional weddings can be added to your account at any time.
Need more than 20 weddings? Request enterprise pricing
Still not sure? We're here to help.
Frequently answered questions
Can I add my own custom branding so it's aligned with my brand?
Yes, whitelabeling is available to business users who have reached 5 or more weddings on their account. Once you have unlocked custom branding, you'll have your very own wedding planning dashboard and login screen!
Can I use this to plan multiple weddings?
Absolutely, you can add additional weddings into your account as your business grows and as needed. You can easily switch between wedding dashboards and get a quick overview of what you need to do next.
Will this help me manage and reduce the numbers of email threads with my clients?
Yup, that's the beauty in having an online portal! WedSites is designed to be the central hub for you to work with your clients and keep track of everything that needs to be done in one place.
Can I work this into my pricing?
Absolutely! We charge a one-time, flat fee per wedding so you won't need to do any complicated calculations to figure out how to include WedSites into your packages.
Give your clients an extra bonus for working with you