More than a wedding website
Everything you need to plan a wedding
From setting up a website, capturing online RSVPs, sending paperless save-the-dates and invitations, to keeping you on track with your wedding checklist and vendor payments, WedSites is the planning platform to get you from "yes" to "I do."
Wedding Dashboard
The easy way to plan
Your team of smart wedding planning tools work together to save you time and make your life easier. You can even collaborate with your partner or delegate tasks to your bridal party to keep everyone on the same page and get things done faster!
Checklist with custom deadlines
Database to securely store all guest details
Reminders for upcoming payments
Budget calculator & tracker
Paperless stationery to match your site
Automatic RSVP reminders to guests
Timeline to share with bridal party and vendors
Design your own website
Your wedding, your way
Show off your personalities and personal style with our easy to use and customizable website templates. We'll give you a good starting point, and you get to make it yours.
Digital stationery
Send out matching invitations
Our website templates come with matching digital Save the Dates and invitations to keep your wedding look consistent across all touch points with guests. Get them to RSVP on your website, and you'll have all their responses neatly placed inside your guest list database.
Packed with planning features
A space dedicated to your wedding planning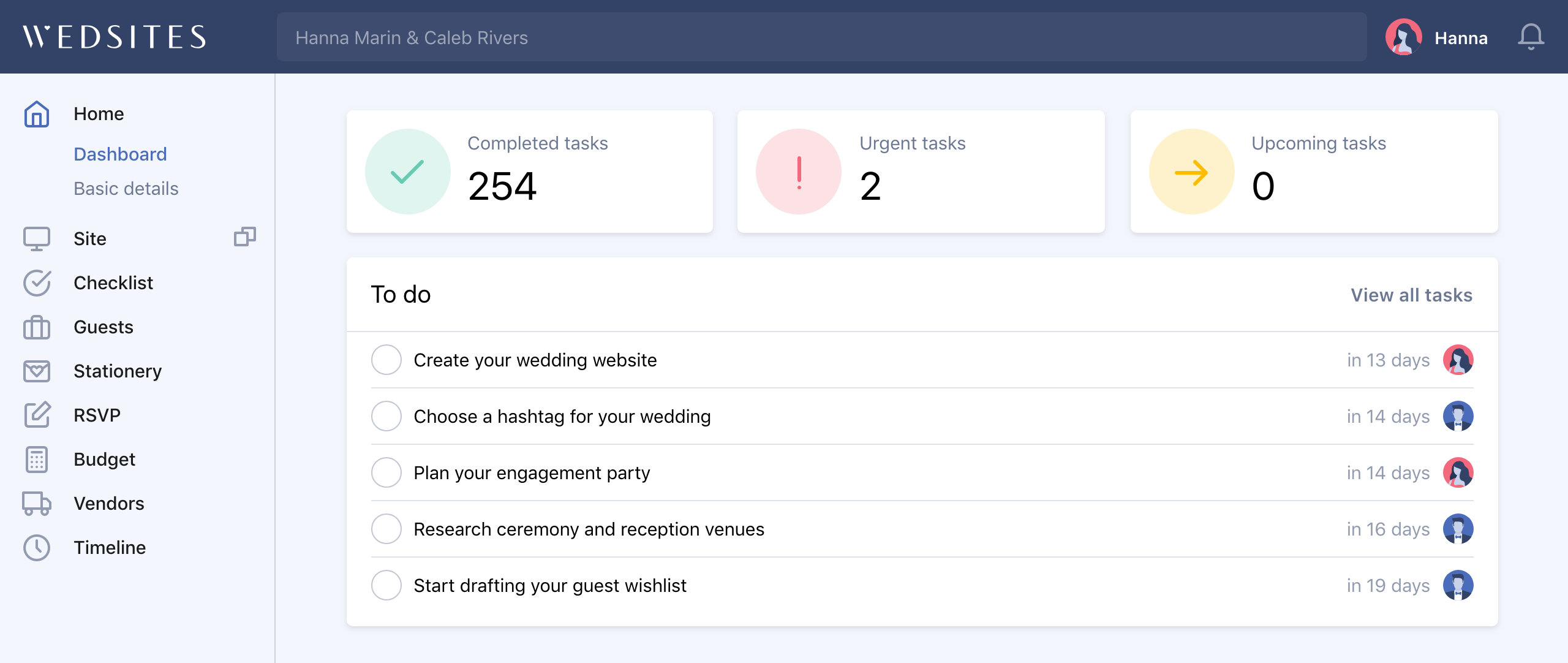 Personalized checklist
Once you've set a date, due dates will automatically be assigned to your wedding planning tasks based on the amount of time you have to plan your big day!
Collaborate with your partner
Enlist the help of your partner and wedding party to help you knock out some tasks! Start by assign tasks to each other and check the progress you've made.
Never miss a deadline
Receive updates from your digital planner so you don't miss any deadlines or payments - just like a real wedding planner would do.
Overview of your planning progress
Your dashboard will quickly indicate how much progress you've been making with your wedding planning. Be reassured knowing that you're on track to getting everything done. We'll even send you email reports to help you along the way
Keep track of your expenses
Use the budget calculator tool to help you create a realistic budget, track expenses, and get an estimated break down for each area of your wedding.
Set up a personal wedding website
Create your own wedding website to help guests find all the information they need and make it super easy for them to RSVP. Design it to match your style and get creative! No boring templates allowed.
Create your own RSVP form
Create your own RSVP questionnaire to get answers from your guests to help you gain insights and make smart decisions along the way.
Automatic RSVP reminders
Quickly check the invitation statuses to see who is attending, regretfully declined, and who you're waiting to hear back from. We can send gentle reminders to those last minute stragglers to get RSVPs back before your deadline.
Guest list manager
Create your guest list and organize them into households, groups, and priority lists. Keep track of all your guests' information, RSVP statuses, and preferences all in one spot.
Professionally designed and customizable stationery suites
Each professionally designed stationery collection consists of a matching paperless Save the Date, Wedding Invitation, and Wedding Website template. Each piece is mobile optimized to look pixel perfect on any device!
Printable reports
Print off reports to hand over to your caterer, DJ, wedding coordinator, and anyone else who will be helping you on your big day!
Seating chart tool
Once you know who is attending, you can start figuring out where to seat everyone using the seating chart tool. This is often trickier than you expect. Drag and drop guests into tables, and find the best seating arrangement for your wedding reception!
Trusted by loved up couples around the world
Here's what they have said about WedSites
Planning my wedding with WedSites was so much more straight forward than I could've imagined. We sent digital save the dates, built our wedding vision over time, gathered our guests addresses without having to chase them, tracked RSVPs, planned our table seating and kept on top of our budgets! I felt like the planning process was relatively stress free, which is what happens when you have all the right tools at your disposal! And we got so many compliments on our wedsite!
Steph & Ryan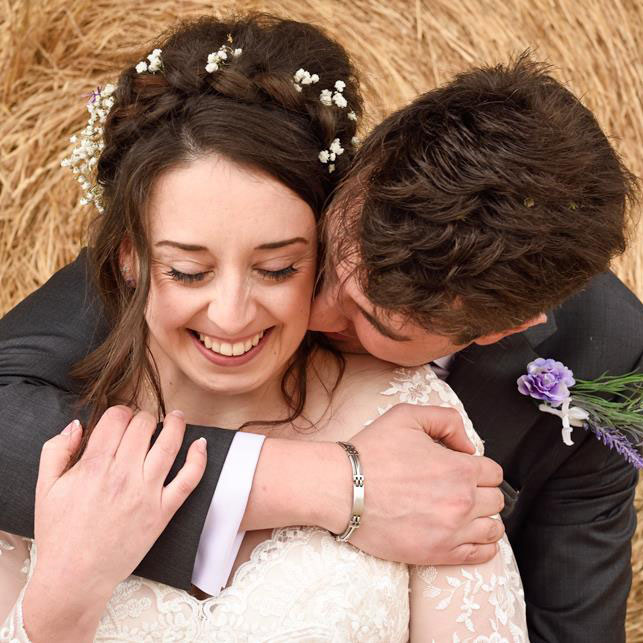 I knew managing our guest list and their dietary requirements was going to be a challenge since many people close to us are either vegetarians or vegans. As a web dev my initial thought was to build a solution myself, but I set out to my good friend Google and tried to find something in the vein of what I needed. WedSites was at the top of the list. If I had to create something as polished as this I would have spent more time building it and less time focusing on my wedding.
Jason & Fiona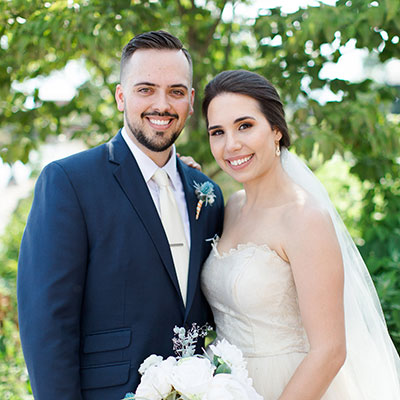 I tried Zola, Wedding Wire, and The Knot, but WedSites was the easiest to use, best looking web design and highly customizable. The guest list tracker was awesome, and the ability to edit every section made all my wedding website dreams come true 😊
Virginia & Jordan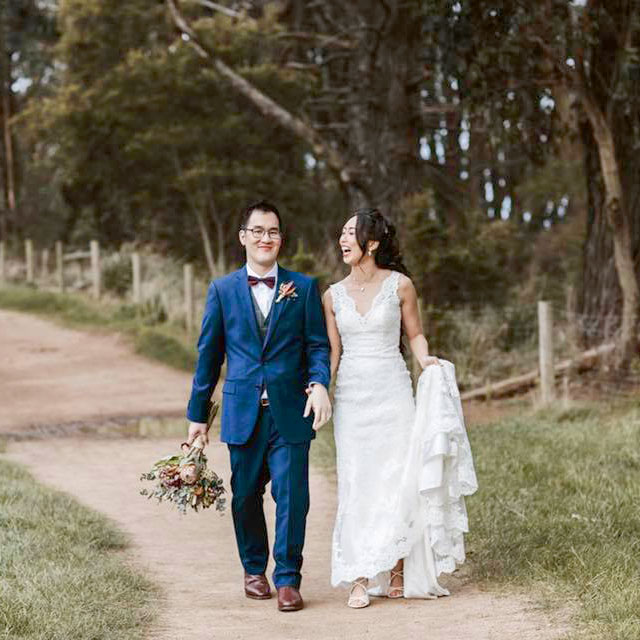 Before using WedSites everything was just scattered about, I had different spreadsheets for guests, budgets, to do lists, etc. I've been loving the guest list feature, to do list reminders, rsvp function and having everything in one place. Having my partner involved, being able to access it from anywhere has been such a big plus for us.
Elise & Marcus