Find the perfect seat for each of your guest
Finding it hard to organize your guests in the best seating arrangement? Don't stress. Use our drag-and-drop visual tool to help you create the perfect seating chart for your reception.
The seating chart, guest tracking, and group emailing were all critical to our DIY wedding planning.
– Adam, Knoxville, TN, USA
Drag-and-Drop Seating Chart Builder
The easiest way to create your seating chart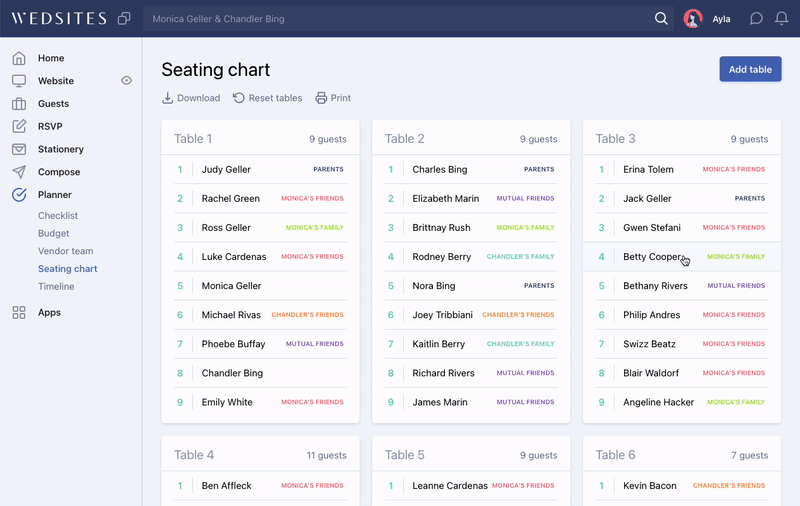 Drag-and-drop builder
Quickly move guests around different tables
Dealing with some awkward social dynamics? Easily move guests from one table to the next so you can visualize where your guests will be seated to find the perfect arrangement.
Integrated guest list + RSVPs
Seamless integration with your guest list and RSVP statuses
Any updates to your guest list will be automatically reflected in your seating chart. Never worry about forgetting an important guest, waste time updating spreadsheets, or lose a precious post-it note!
Dietary preferences
Take note of dietary requirements
Inviting guests with complicated dietary requirements? Your seating chart tool will make sure each guest's dietary preferences have been accounted for.
Printable seating chart
Share your seating plan with your vendors
Quickly print and share your seating chart with your wedding suppliers to help them set up your reception tables.
Loved, loved, loved the table seating chart!
– Noaimai P., Wilmington, DE, USA
Your entire wedding planning experience streamlined
Forget trying to reinvent the wheel. Save yourself heaps of time with our integrated suite of tools to help you plan from start to finish. Once your guests have RSVP'd, it's time to quickly organize them into the best seating arrangement for your big day!
Design the perfect wedding seating chart
Creating the perfect seating plan is hard. Make your life easier with a visual seating chart tool that will let you move guests from one table to the next until your heart's content!
Print and share your seating arrangement
Once you've perfected your seating plan, it's time to share it with your vendor team. Quickly print and share your seating chart with your wedding coordinator so they can set up your reception tables with ease. They'll love you for this!
Create a thoughtful seating chart and plan your perfect day in one streamlined place.
All of the smart project management tools inside of WedSites
Drag-and-drop reception seating chart builder
Seamless integration with guest list, wedding website, and other planning tools
Organize guests into social and family groups
Track guest attendance for multiple & private events
Create your own RSVP questionnaire form
Event specific RSVP questions
Digital invitations & email sending
Hide or show events on your schedule depending on who's looking
Printables for your day-of admin to share with wedding vendors
Live chat customer support + documentation to help you every step of the way
Ad-free wedding planning dashboard
24 months of hosting. One-time payment.
Frequently answered questions
Can I import my guest list?
Yes! You can import your guest list from a spreadsheet into WedSites. Once you've got your RSVP's sorted, you can start finalizing your seating chart and share it with your wedding coordinator, caterers, and anyone else helping you set up on the day!
What's included in WedSites Pro?
The Pro plan includes all of the features inside of WedSites! These are the main features that are only included in Pro:
a personalized digital checklist to keep track of all your wedding to-do's
the ability to assign tasks between you, your fiance, friends, and/or wedding planner
budget calculator + expense tracking
setting up all your vendor contacts, payment reminders, and uploading contracts
drag-and-drop seating chart builder that you can give to your wedding coordinator, caterer, or whoever else is setting up tables for you
wedding day-of timeline builder
printable reports - checklist, budget, seating chart, timeline, guest list, household addresses, etc.
the option to translate your wedding website into multiple languages.
How will the seating chart tool know which guest has specific dietary needs?
Our seating chart builder communicates with your guest list manager to make a note of any dietary preferences. When your guest RSVPs, they'll be asked if they have any dietary restrictions so there's no way that you could mess this up!
Can I start with Standard and upgrade to Pro later?
Absolutely! You're more than welcome to start with the Standard plan and upgrade to Pro whenever you feel like keeping track of all your wedding related tasks in one place!
What if I get stuck? Will someone help me?
Don't worry, we don't leave you hanging! If you can't find the answer you're looking for in our help desk, you can always reach us through our in-app chat where you'll be able to speak to a real person!
Guest list tips & seating chart etiquette
Still not sure? We're here to help.
The biggest issue that I had with other wedding web sites is that I could not link my guest list with an electronic invitation, RSVPs, and seating charts. Everything I needed to take care of for the wedding was easier with WedSites.
– Gayle S., Newtown, PA, USA
Streamline your wedding planning and make your life easier with WedSites.
See all plans