Stress-free guest list management
Keeping track of all your guests and their complicated dietary requirements is stressful when you're running against the clock to get this wedding organized.
Guest list database
Keep track of all your party people in one streamlined place.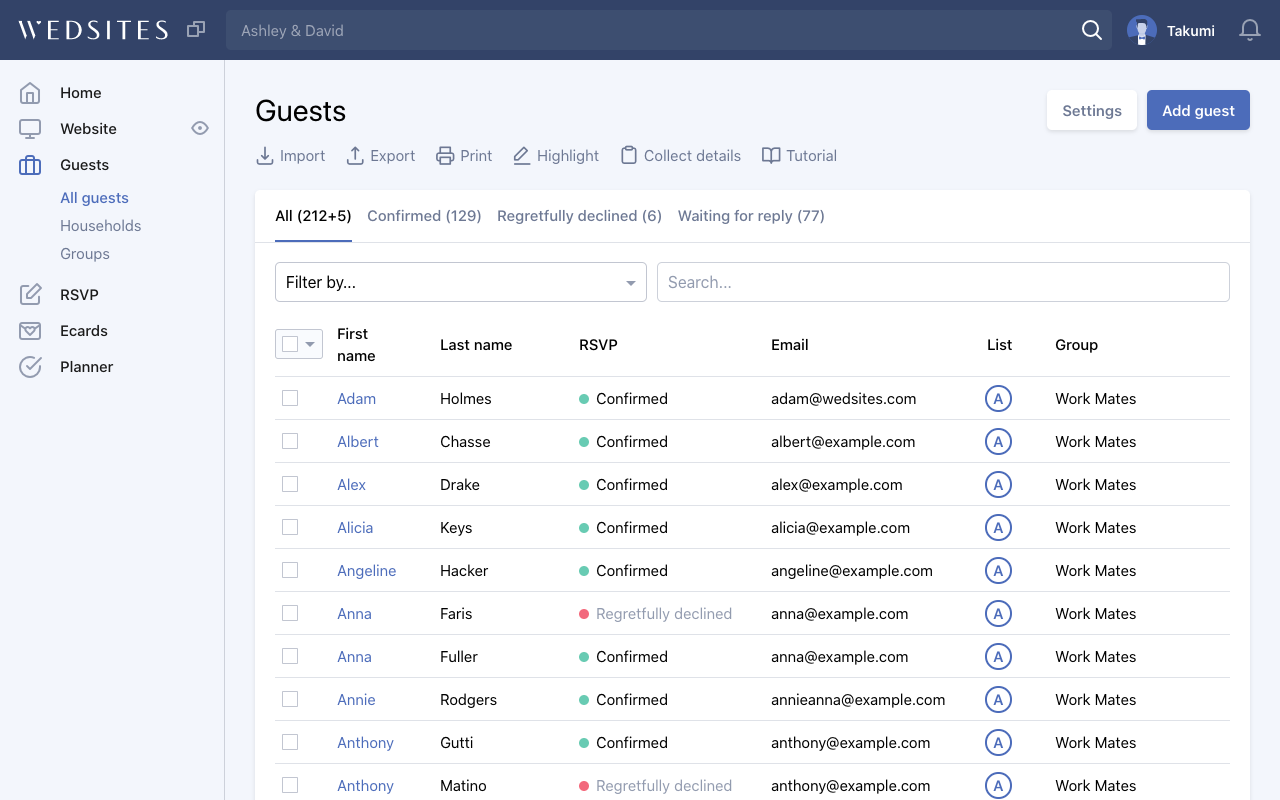 Collect guest details
Grab contact details from guests with ease
Send guests a link to your special form to quickly collect their address, email, and phone numbers. Sit back and watch their contact details show up in your guest list until you're ready to send out your invitations!
Groups, households, and +1's
Logical guest list organization
Get your guest list organized into social and family groups. Singles with +1's, couples, and families can be put into their own households so they can RSVP together.
Search & filtering
Find guest details when you need them
Looking up your guest's details and RSVP statuses is a breeze with dropdown filters and search functionality.
Save the Dates & Invitations
Eco-friendly paperless options
Your wedding website comes with matching paperless stationery. Modify your website template? Your digital Save the Date & Invitation cards will reflect your custom color palette, too!
Email updates
Change of plans?
No problem. If anything pops up, you can send a quick email to your guests straight from your dashboard.
Online RSVP
"Lost in the mail" is no longer an excuse.
Say hello to the simplest, easiest way for guests to RSVP.
Ask guests to RSVP for other special events
Planning a rehearsal dinner? Invite specific guests to RSVP for additional wedding-weekend events that will only be shown to them. No hard feelings.
Create your own RSVP form
Take it a step further and add your own RSVP questions to ask guests for their dietary preferences, song requests, travel plans, or their best marriage advice!
Being able to customise exactly what info I needed from the guests on our RSVP form was the best thing ever.
– Megan & Gianni, Adelaide, Australia
Make your RSVP process easier for everyone
Create, send, and receive your RSVP's and guest details in one place.
You've got this sorted.
Save yourself time and extra postage costs
Make it easier for guests by giving them the option to RSVP online. You save on postage costs, and guests won't need to make a trip to the post office. Now that sounds like a win-win!
Peace of mind for last minute changes
Change of plans? No problem. If anything pops up, you can send a quick email to your guests straight from your dashboard.
Keep track of all your guests' information in one streamlined place.
Send forms to guests to quickly collect missing information.
Organize guests into A/B lists, friend groups, and households.
Get an at-a-glance overview of all RSVP statuses.
Allow households and families to RSVP together.
Assign +1's and collect +1's names.
Custom RSVP questions allow you to collect song requests, updated addresses, dietary preferences, and more.
Invite specific guests to RSVP for additional wedding-weekend events.
Seamless integration with your wedding website & digital planner.
Frequently answered questions
How do your online RSVP's work?
Glad you asked! Depending on how strict you are with your guest list, our wedding websites can act as your own virtual concierge. If you want to restrict RSVP's to only those on your guest list, we'll make sure of it.
If you want to know specific information from your guests, you can create your own RSVP questionnaire form and we will store all their answers inside of your guest list database.
How can I control who can RSVP on my website?
If you want that extra level of security, you can restrict RSVP's to only those who are on your guest list.
Is it possible for one person to RSVP for everyone in their household?
Yes, absolutely. Any one guest in a given household can RSVP for everyone else.
Is there a limit to the number of people I can add to my guest list?
It's your party, invite as many people as you'd like!
Can I create my own questions for RSVP's?
Yes you sure can! We have a special questionnaire builder so you can create a totally customized RSVP form to ask your guests questions about their dietary preferences, the best piece of marriage advice they've heard, when they'll be flying into the country, and what their favorite songs are!
Can I have guests RSVP to multiple events?
Yep! If you've got special events organized in the lead up or a recovery brunch after the event, you can ask guests to RSVP to those events too!
Hosting a private event? You can control which events your guests can RSVP to without making them visible to everyone.
Can I still use online RSVP's if I'm sending paper invitations by post?
Absolutely! All you need to do is include a line on your invitation asking guests to RSVP on your wedding website.
Can I manually keep track of RSVP's for my older and less tech savvy guests?
Definitely! While any information submitted through your guest collection and RSVP forms will be saved inside your guest list, you always have the option to manually keep track and add your own notes as well.
I've created my own wedding website, can I use your RSVP functionality?
Yes! If you're looking for a way to manage your RSVP's, you can still use WedSites to complement your wedding website to complete the experience.
How do guests' RSVP? Do they have to sign up too?
Your guests literally just need to visit your website and click to RSVP from their desktop or mobile device. No need to sign up or download anything.
Can I import my guest list from a spreadsheet?
Yes. You can import your guest list from a spreadsheet into your guest list manager. Once all your RSVP's are in, you also have access to printables to share your guests' dietary requirements with caterers and other vendors.
Guest list management tips & advice
I knew managing our guest list and their dietary requirements was going to be a challenge since many people close to us are either vegetarians or vegans. As a web dev my initial thought was to build a solution myself, but if I had to create something as polished as this I would have spent more time building it and less time focusing on my wedding.
– Jason & Fiona, Adelaide, Australia
Still not sure? We're here to help.